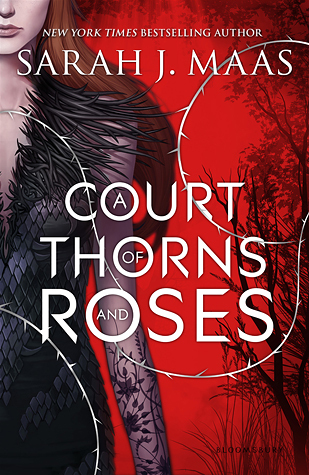 Release date:
May 5, 2015
Author info:
Website
|
Twitter
|
Facebook
Publisher:
Bloomsbury Children's
Pages:
416
Format:
ARC
Source:
Gifted
Buy the book:
Barnes & Noble
|
Amazon
|
The Book Depository
A thrilling, seductive new series from New York Times bestselling author Sarah J. Maas, blending Beauty and the Beast with faerie lore.

When nineteen-year-old huntress Feyre kills a wolf in the woods, a beast-like creature arrives to demand retribution for it. Dragged to a treacherous magical land she only knows about from legends, Feyre discovers that her captor is not an animal, but Tamlin—one of the lethal, immortal faeries who once ruled their world.

As she dwells on his estate, her feelings for Tamlin transform from icy hostility into a fiery passion that burns through every lie and warning she's been told about the beautiful, dangerous world of the Fae. But an ancient, wicked shadow grows over the faerie lands, and Feyre must find a way to stop it . . . or doom Tamlin—and his world—forever.

Perfect for fans of Kristin Cashore and George R. R. Martin, this first book in a sexy and action-packed new series is impossible to put down!
Sarah J. Maas writing a retelling of Beauty and the Beast--how could that not be awesome? Her Throne of Glass series was actually a rough start for me, but, with
Crown of Midnight
, it quickly became a favorite series. She's got swoony romance, heart-pounding action, and seriously great heroines down, and it's awesome.
A Court of Thorns and Roses
was everything I wanted it to be.
We're introduced to a world in which humans and faeries are separated by a barrier. Humans were once the slaves of fae, but a violent revolution won them freedom and their own part of the world. Even so, those living near the barrier are plagued by fear of what would happen if they faeries decided to cross the wall. It's said those who go across never come back from the fae lands. I found this world to be fascinating. I loved the idea of the humans fighting for their freedom and faeries fighting with them, helping them earn their freedom. But from Feyre's perspective, we're shown that while her life was far from charmed, the fae world is more dangerous, in an insidious, creeping kind of way. There are power struggles going on that she can't fathom and it takes a long time for her really to understand what's going on--and she makes grave mistakes because of it.
Yet, Feyre is a fighter if you ever saw one. She fights tooth and nail to provide for her crippled father and sisters, doing anything and everything to keep food on their table. When she's taken my Tamlin, she's wracked by guilt that she's not taking care of them. She's also constantly trying to work out what's going on around her, never really content to let things pass her by. And she fixes her mistakes, even when they seem impossible. Her willingness to fight, over and over again, when all seems lost, is what I admired most about Feyre.
And ohh are there some great characters! Tamlin is just fascinating. He's brutal, fierce, and very temperamental, but he's also loyal and willing to sacrifice himself for others. Then there's Lucien, always happy to provide some light-hearted entertainment, but also deeply scarred by his past, and the still enigmatic Rhysand. He's got so many strengths that come out as we see him more, but he's also unlikable in so many ways. There's a lot more to come from him, it's obvious.
Sigh, the romance.
A Court of Thorns and Roses
is definitely for the mature YA reader, but oh, it's passionate and fueled by anger at times, yet it's so strong. We see that evidenced in the decisions and actions of Feyre and Tamlin over and over again--not just in words, which I loved. They're willing to hurt, to choose the other over themselves, and it's lovely and painful all at the same time.
If you're a fan at all of Sarah J. Maas, don't hesitate to pick up
A Court of Thorns and Roses
. You couldn't be disappointed by the more daring romance, nuanced characters, and action that's sure to set your pulse racing.
About the author:
Sarah J. Maas is the New York Times, USA Today, and internationally bestselling author of the Throne of Glass series (Queen of Shadows, the fourth book, will release globally on September 1st, 2015) and the A Court of Thorns and Roses series (out starting May 5th, 2015). She currently resides with her husband and loyal canine companion in Pennsylvania. She graduated Magna Cum Laude from Hamilton College in 2008 with a degree in Creative Writing, and a minor in Religious Studies. Sarah is represented by Tamar Rydzinski of the Laura Dail Literary Agency.