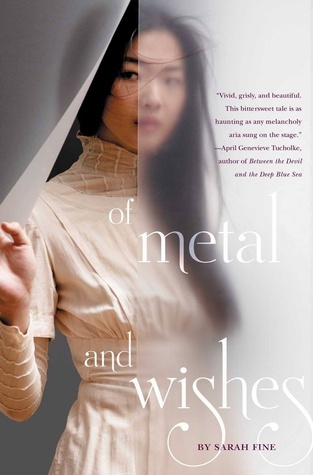 Title:
Of Metal and Wishes
Author:
Sarah Fine
Release date:
August 5, 2014
There are whispers of a ghost in the slaughterhouse where sixteen-year-old Wen assists her father in his medical clinic—a ghost who grants wishes to those who need them most. When one of the Noor, men hired as cheap factory labor, humiliates Wen, she makes an impulsive wish of her own, and the Ghost grants it. Brutally.

Guilt-ridden, Wen befriends the Noor, including their outspoken leader, a young man named Melik. At the same time, she is lured by the mystery of the Ghost and learns he has been watching her... for a very long time.

As deadly accidents fuel tensions within the factory, Wen must confront her growing feelings for Melik, who is enraged at the sadistic factory bosses and the prejudice faced by his people at the hand of Wen's, and her need to appease the Ghost, who is determined to protect her against any threat—real or imagined. She must decide whom she can trust, because as her heart is torn, the factory is exploding around her... and she might go down with it.

My teaser, from p. 24 in the ARC:
I scoff, too angry to do anything else. "Careful of whom, exactly?" I gesture at the bolt of purple cloth, the bottle of rice wine, the package of salted fish, the carved letter opener--all offerings left in exchange for wishes. "Who is this Ghost, that people think he is worthy of their best things?"
Well. I'm officially obsessed with this book. I've actually finished, but just had to tease from it! Why didn't I read it as soon as I had a copy (months before it came out)? Who knows, but I'm dumb. Obviously. Loved, loved, loved,
I'll be visiting around and visiting back, so leave me links to your teasers! :) Happy Tuesday!