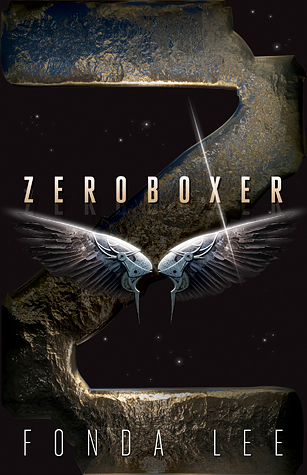 Title:
Zeroboxer
Author:
Fonda Lee
Release date:
April 8, 2015
A Sci-Fi Thrill Ride Set in the Action-Packed Sports Arena of the Future

A rising star in the weightless combat sport of zeroboxing, Carr "the Raptor" Luka dreams of winning the championship title. Recognizing his talent, the Zero Gravity Fighting Association assigns Risha, an ambitious and beautiful Martian colonist, to be his brandhelm––a personal marketing strategist. It isn't long before she's made Carr into a popular celebrity and stolen his heart along the way.

As his fame grows, Carr becomes an inspirational hero on Earth, a once-great planet that's fallen into the shadow of its more prosperous colonies. But when Carr discovers a far-reaching criminal scheme, he becomes the keeper of a devastating secret. Not only will his choices place everything he cares about in jeopardy, but they may also spill the violence from the sports arena into the solar system.

My teaser, from 46% in the egalley:
Across from him, Henri Manon curled back a thick upper lip and pointed a finger at Carr's chest. "You," he mouthed, then jabbed his thumb back toward himself, "...are mine." He bared teeth, as if he might use them to rend Carr's flesh.
I liked this a lot at the beginning, but I've kind of lost some enthusiasm. Hopefully it picks up!
I'll be visiting around and visiting back, so leave me links to your teasers! :) Happy Tuesday!