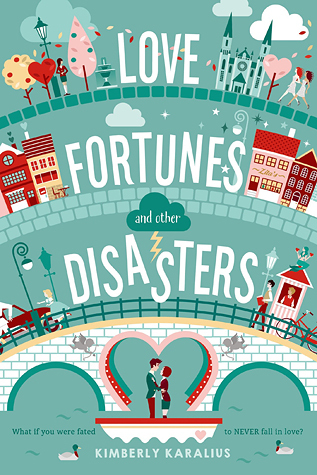 Release date:
May 12, 2015
Author info:
Website
|
Twitter
Publisher:
Swoon Reads
Pages:
368
Format:
ARC
Source:
Publisher provided for review
Buy the book:
Barnes & Noble
|
Amazon
|
The Book Depository
In the tradition of Alice Hoffman's Practical Magic, one girl chooses to change her fortune and her fate by falling in love.

Love is real in the town of Grimbaud, and Fallon Dupree has dreamed of attending high school there for years. After all, generations of Duprees have successfully followed the (100% accurate!) love fortunes from Zita's famous Love Charms Shop to happily marry their high school sweethearts. It's a tradition. So she is both stunned and devastated when her fortune states that she will NEVER find love.

Fortunately, Fallon isn't the only student with a terrible love fortune, and a rebellion is brewing. Fallon is determined to take control of her own fate—even if it means working with a notorious heartbreaker like Sebastian.

Will Fallon and Sebastian be able to overthrow Zita's tyranny and fall in love?
I'm of two minds when it comes to
Love Fortunes and Other Disasters
. There are elements that didn't quite work for me, but I still absolutely rooted for Fallon and company to get their happy endings.
There's something about the town of Grimbaud that I kind of...hated. Maybe it's the way no one seemed to think anything of taking these love fortunes seriously or considered that the rest of the world works just fine without them. Maybe it's the sicky sweet vibe of the place, where cupids are used for decorations. Maybe it's the entire idea of communities for the bachelors and spinsters. I mean. Sometimes I'm charmed by the settings of books, but Grimbaud was such a detractor for me. It came off as caricature, rather than the charming place it's written to be.
Yet, I did largely like Fallon. She's interesting in a unique kind of way, very different from me but still easy to understand and relate to. Her relationship with Sebastian is appealing and
of course
I wanted them to get together. The dynamic between Fallon and her friends is good, and I liked that, for a character who's a little high maintenance and might come off as self-centered, Fallon is a really good friend, considerate and aware of her friend's problems.
So, a mixed bag. The cover is almost unreal in how adorable it is and I liked a lot of the characters, but I couldn't get over how false Grimbaud--and by extension the villain(s)--felt.
Love Fortunes and Other Disasters
is cute and fluffy, but ultimately one that's kind of already slipping out of my mind.
About the author:
If you gave her a wish bone, Kimberly would wish fervently for snow in Florida. Her love for 90s cartoons (or any cartoons, really) knows no bounds. She might be the only person you know who can be completely engrossed in watching silent films. Being in Florida certainly has one big perk: going to Disney World. Which she does. Frequently.

Kimberly holds an MFA in fiction from the University of South Florida. Her fiction has appeared in literary journals such as Luna Station Quarterly, The Medulla Review, and Hogglepot. Her chapbook, POCKET FOREST, was published by Deathless Press in August 2013.

LOVE FORTUNES AND OTHER DISASTERS (Swoon Reads/Macmillan May 2015) is her debut novel.