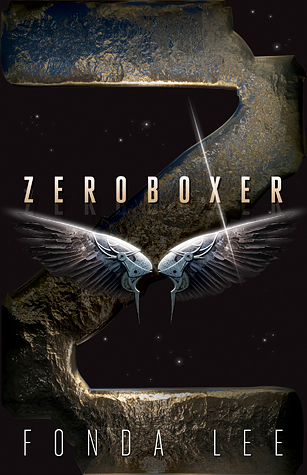 Release date:
April 8, 2015
Author info:
Website
|
Twitter
|
Facebook
Publisher:
Flux
Pages:
360
Format:
Egalley
Source:
Publisher provided for review through Netgalley
Buy the book:
Barnes & Noble
|
Amazon
|
The Book Depository
A rising star in the weightless combat sport of zeroboxing, Carr "the Raptor" Luka dreams of winning the championship title. Recognizing his talent, the Zero Gravity Fighting Association assigns Risha, an ambitious and beautiful Martian colonist, to be his brandhelm––a personal marketing strategist. It isn't long before she's made Carr into a popular celebrity and stolen his heart along the way.

As his fame grows, Carr becomes an inspirational hero on Earth, a once-great planet that's fallen into the shadow of its more prosperous colonies. But when Carr discovers a far-reaching criminal scheme, he becomes the keeper of a devastating secret. Not only will his choices place everything he cares about in jeopardy, but they may also spill the violence from the sports arena into the solar system.
From the first time I read the synopsis, I knew I needed to read
Zeroboxer
. As someone who maybe isn't the biggest fan of sports in real life but who loves fictional representations of sports (I don't know why, but it's true), the idea of zero-gravity boxing is
awesome
. Unfortunately for me, the zeroboxing was the only thing I truly enjoyed about
Zeroboxer
.
The zeroboxing is, suffice to say, awesome. And Fonda Lee does a great job of describing it, making sure you never forget it's a 360-degree sport and its brutality. The parts when Carr is fighting are the best parts of the book. They're tense yet in the moment, and it's hard to stop reading.
Yet, those are the only parts that were compelling. Carr and most of the other characters, maybe aside from DK and Uncle Polly, really don't seem to have too much going on. Even as we're following Carr throughout the book, I never felt like I knew anything about him. And then there's the romance. It's not instalove, per se, but it feels like it. Periods of time are skipped without warning, so supposedly this relationship develops but we certainly don't see it. I, for one, never saw much chemistry or feelings between Carr and Risha, either. It was just hard to root for a relationship I didn't get and characters I couldn't feel for.
So, while the world is certainly fascinating and well-built and the zeroboxing is
so
cool, the meat of the book--its characters and stakes--just aren't as well developed. They're missing the pop that make the characters leap off the page and make you care for them.
Zeroboxer
does a lot to explore the nature of celebrity but it never makes its celebrity fascinating.
About the author:
Fonda Lee writes fantasy and science fiction for teens and adults. Her debut novel, ZEROBOXER, will be published by Flux on April 8, 2015. She is a former corporate strategist, avid martial artist, and an enthusiast of food, film, and books. She lives in Portland, Oregon.