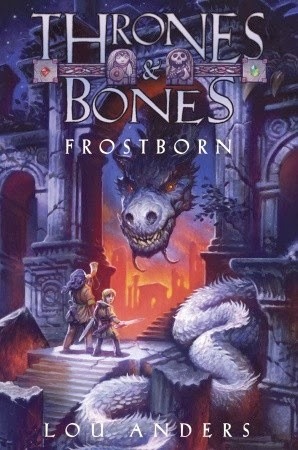 Release date:
August 5, 2014
Author info:
Website
|
Twitter
|
Facebook
Publisher:
Crown Books for Young Readers
Pages:
352
Format:
ARC
Source:
Publisher provided for review
Buy the book:
Barnes & Noble
|
Amazon
|
The Book Depository
Meet Karn. He is destined to take over the family farm in Norrøngard. His only problem? He'd rather be playing the board game Thrones and Bones.

Enter Thianna. Half human, half frost giantess. She's too tall to blend in with other humans but too short to be taken seriously as a giant.

When family intrigues force Karn and Thianna to flee into the wilderness, they have to keep their sense of humor and their wits about them. But survival can be challenging when you're being chased by a 1,500-year-old dragon, Helltoppr the undead warrior and his undead minions, an evil uncle, wyverns, and an assortment of trolls and giants.
I really don't read much middle grade, but sometimes something about a book just screams at me. In the case of
Frostborn
, it was a mixture of a quote from Garth Nix about the books (one of my favorite authors everrr) and the promise of a book both Norse inspired and board-game centric.
And it was too fun! Karn and Thianna's adventures are filled with all the best kinds of creatures and a lot of cool fictional history inspired by real ancient history. There are (effectively, but not quite) zombies, a dragon, wyverns, treachery, and a lot of strategy. It's a non-stop adventure, and so entertaining all the way through.
Both Karn and Thianna have grown up feeling a bit out of place in their homes. Karn is more interested in what's going on outside of his farm and playing Thrones and Bones, but he's destined to become the hauld of his family's farm. Thianna is half frost giant, half human, tall but not quite tall enough, not quite giant enough. But each is thrown into circumstances out of their control, running and fighting for their lives and to protect those they love, and through their adventures, they come to learn so much about themselves, what they want, and what they have to do.
Both lighthearted and filled with messages,
Frostborn
certainly appealed to me, and I know it'd appeal to kids. Karn and Thianna are utterly easy to root for, and the ending is closed enough but leaves a good opening for the sequel, which I'm excited to read soon.
About the author:
Lou Anders's research on Norse mythology while writing Frostborn turned into a love affair with Viking culture and a first visit to Norway. He hopes the series will appeal to boys and girls equally. Anders is the recipient of a Hugo Award for editing and a Chesley Award for art direction. He has published over 500 articles and stories on science fiction and fantasy television and literature. Frostborn, which Publishers Weekly described as "thoroughly enjoyable" (starred review), is his first middle grade novel. A prolific speaker, Anders regularly attends writing conventions around the country. He and his family reside in Birmingham, Alabama. You can visit Anders online at louanders.com and ThronesandBones.com, on Facebook, and on Twitter at @ThronesandBones.