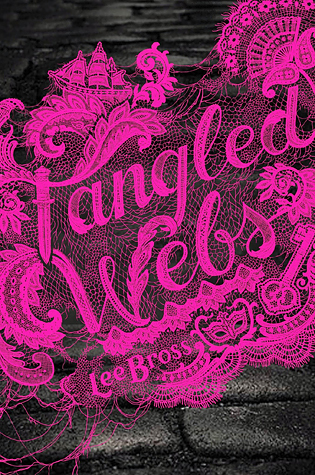 Release date:
June 23, 2015
Author info:
Website
|
Twitter
Publisher:
Disney-Hyperion
Pages:
304
Format:
ARC
Source:
Gifted
Buy the book:
Barnes & Noble
|
Amazon
|
The Book Depository
London, 1725. Everybody has a secret. Lady A will keep yours—for a price. This sumptuous, scandalous YA novel is wickedly addictive.

Lady A is the most notorious blackmailer in the city. With just a mask and a gown to disguise her, she sweeps into lavish balls and exclusive events collecting the most valuable currency in 1725 London—secrets.

But leading a double life isn't easy. By day Lady A is just a sixteen-year-old girl named Arista who lives in fear of her abusive master, Bones, and passes herself off as a boy to move safely through the squalor of London's slums. When Bones attempts to dispose of his pawn forever, Arista is rescued by the last person she expects: Jonathan Wild, the infamous Thief Taker General who moves seamlessly between the city's criminal underworld and its most elite upper circles. Arista partners with Wild on her own terms in the hopes of saving enough money to buy passage out of London.

Everything changes when she meets Graeden Sinclair, the son of a wealthy merchant. Grae has traveled the world, has seen the exotic lands Arista has longed to escape to her whole life, and he loves Arista for who she is—not for what she can do for him. Being with Grae gives something Arista something precious that she swore off long ago: hope. He has promised to help Arista escape the life of crime that has claimed her since she was a child. But can you ever truly escape the past?
If you're looking for a fun, light, and entertaining historical YA,
Tangled Webs
is your book. It's not quite what I was expecting to read--especially in relation to the lightness--but it's a solidly enjoyable read.
It's kind of the most fun-sounding setup, right? Arista is a girl taken from the streets, trained up, and put into a world she could never belong to. And she doesn't necessarily want to. She wants to escape, take a ship far away, and see the rest of the world she's dreamed of her entire life. While she's seemingly a tough cookie, working aristocrats over to get their secrets, Arista isn't so comfortable with what she does, especially as she becomes more aware of what her employer is doing.
I couldn't help but root for the romance between Arista and Grae. Their attraction is instantaneous and has just enough swoon. But what I really liked was how the story kept twisting back and forth. It's never truly quite clear who the two can trust and if they're going to be able to release Arista and Grae's family from their troubles, and it kept me turning pages as fast as I could.
Tangled Webs
is just the right kind of historical novel for the summer, for those of us who aren't as big into contemporaries but like the idea of a book that'll keep them excited from beginning to end.
About the author:
Lee Bross is the author of Tangled Webs, and Fates as Lanie Bross. She was born in a small town in Maine, where she spent the next eighteen years dreaming of bigger places. After exploring city life, she and her husband and two young sons ended up going right back to the wilds of Maine. They now live just one house down from where she grew up. Fate, perhaps? Lanie loves chasing her rambunctious kids, playing tug-of-war with her ninety-five-pound Lab, and writing for teens. Visit her online at leebross.com and follow her on Tumblr and Twitter.