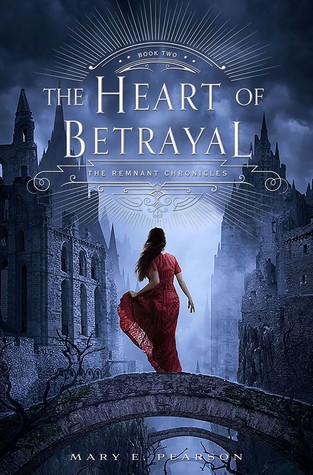 Title:
The Heart of Betrayal (The Remnant Chronicles #2)
Author:
Mary E. Pearson
Release date:
July 7, 2015
Intrigue abounds in this hotly anticipated sequel to The Kiss of Deception!

Held captive in the barbarian kingdom of Venda, Lia and Rafe have little chance of escape. Desperate to save her life, Lia's erstwhile assassin, Kaden, has told the Vendan Komizar that she has the gift, and the Komizar's interest in Lia is greater than anyone could have foreseen.

Meanwhile, nothing is straightforward: there's Rafe, who lied to Lia, but has sacrificed his freedom to protect her; Kaden, who meant to assassinate her but has now saved her life; and the Vendans, whom Lia always believed to be barbarians. Now that she lives amongst them, however, she realizes that may be far from the truth. Wrestling with her upbringing, her gift, and her sense of self, Lia must make powerful choices that will affect her country... and her own destiny.

My teaser, from p. 101 in the ARC:
The small wedge I had planted was already disappearing. They had a history together. Loyalty. The Komizar called him brother, as if they really were. I knew, even minutes ago when I had called Kaden an ally, that he wasn't--not as long as Venda came first.
Happy release day to
The Heart of Betrayal
! I only wish I had started it earlier, because I know it's going to be awesome. This is about as far as I am so far, and it's gooood. :)
I'll be visiting around and visiting back, so leave me links to your teasers! :) Happy Tuesday!