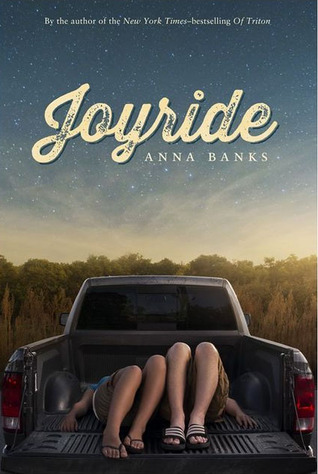 Release date:
June 2, 2015
Author info:
Website
|
Twitter
|
Facebook
Publisher:
Feiwel & Friends
Pages:
288
Format:
ARC
Source:
Publisher provided for review
Buy the book:
Barnes & Noble
|
Amazon
|
The Book Depository
A popular guy and a shy girl with a secret become unlikely accomplices for midnight pranking, and are soon in over their heads—with the law and with each other—in this sparkling standalone from NYT-bestselling author Anna Banks.

It's been years since Carly Vega's parents were deported. She lives with her brother, studies hard, and works at a convenience store to contribute to getting her parents back from Mexico.

Arden Moss used to be the star quarterback at school. He dated popular blondes and had fun with his older sister, Amber. But now Amber's dead, and Arden blames his father, the town sheriff who wouldn't acknowledge Amber's mental illness. Arden refuses to fulfill whatever his conservative father expects.

All Carly wants is to stay under the radar and do what her family expects. All Arden wants is to NOT do what his family expects. When their paths cross, they each realize they've been living according to others. Carly and Arden's journey toward their true hearts—and one another—is funny, romantic, and sometimes harsh.
I've had a rather rocky experience with Anna Banks' books, and quite honestly, I told myself
Joyride
would be my last from her if I didn't like it. I can't write off Anna Banks' books yet, I'm happy to say, but that's not to say this one was a total joyride to read, either (excuse me, but I can't not use that pun!)
In many ways (and some only in theory), there's a lot to like about
Joyride
. Diversity! Southern setting! Big issues! And some of those are handled pretty well. Anna Banks gets into problems with immigration but never goes terribly deep into it. This can be good and bad in equal measure, because it many of the problems could be dealt with more on the page and bits are certainly sugarcoated, but it still brings the issue to reader's minds and never downplays the seriousness. Carly is compelling as a character, because she's so torn by her desires to be a normal teenager and to help her family. Her romance with Arden is never center of her life and reasoning, and she never sacrifices family for a boy. (Yay!)
This is wholly a personal thing, but the Southern setting never felt authentic to me. There are mentions here and there, but the South is, in a lot of ways, kind of immersive--if only in the food, accents, and heat. I know Anna Banks lives in Florida, where the book is set, and yet I didn't see a "y'all" until at least halfway through (You don't go through many conversations without a y'all in there somewhere, y'all!) And I don't know that I saw anything about the heat? The heat is a topic of mention. Daily. (I live in Mississippi, if you don't know.) As I said, this is such a personal qualm, but it stood out and bothered me.
The other main problem, for me, is Arden's dad. He has all of this potential to be a really interesting character and dynamic bad guy for the book, but he's painted down into a caricature. His motives are played down in favor of a mustache-twirling, corrupt, money-hungry villain without any redeeming qualities whatsoever. It's disappointing to say the least.
Despite the problems, I generally enjoyed
Joyride
. I liked Carly and Arden's relationship and what they brought out in one another. I liked that Carly was able to stand up for herself and having a life outside of making money, and I was happy to read a happy ending.
About the author:
Anna Banks grew up in a small town called Niceville (yes, really). She now lives in Crestview, Florida, with her husband and their daughter.