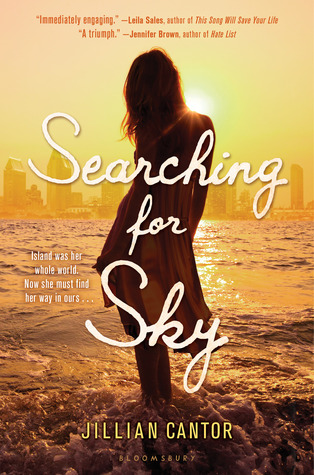 Release date:
May 13, 2014
Author info:
Website
|
Twitter
|
Facebook
Publisher:
Bloomsbury USA Children's
Pages:
288
Format:
Egalley
Source:
Publisher provided through Netgalley
Buy the book:
Barnes & Noble
|
Amazon
|
The Book Depository
Sky and River have always lived on Island, the only world they've ever known. Until the day River spots a boat. Across Ocean, in a place called California, Sky is separated from River and forced to live with a grandmother she's just met. Here the rules for survival are different. People rely on strange things like cars and cell phones. They keep secrets from one another. And without River, nothing makes sense. Sky yearns for her old life where she was strong and capable, not lost and confused. She must find River so they can return to Island, but the truth behind how they ended up there in the first place will come as the biggest shock of all.
This sounds really interesting, right? And the beginning was pretty interesting. But from the time Sky and River leave Island and venture into our world, something so completely different from their own, I was bored. There's something wrong with that. The meat of the book is what bored me. What should have been so fascinating--exploring a world that's so familiar to me through Sky's head--almost made me put down the book. It's a good idea and mindset that I was intrigued by, but there's no tension, nothing to pull me in and keep me riveted.
Even Sky, who could have been heartbreakingly sympathetic because she left Island because of her trust in River, who quickly left her behind, and who is struggling to understand the what and why of everything, really isn't especially sympathetic. And that's largely because I couldn't find a reason to care about her. She's pushed and pulled in all kinds of directions, but never seems to speak for herself, content to wallow in how much she misses River. But, if she's the practical one, the intelligent one, the one who takes action, why can't Sky take a little action now? Why isn't she proactive? Or even just fighting a little bit harder for what she wants?
So, when you don't feel anything for the characters and you're bored, how do you continue reading a book? You skim. And that's what I did for the entire second half. Not only did I enjoy myself marginally more than I had been, but I don't think I missed a thing in doing so. The big revelations, the reasons why River, Sky, Helmut, and Petal were on the island, were really not so huge. They brought in an interesting dynamic, especially given how Sky viewed Helmut, but more could have been done with it too.
All in all, there's a lot of wasted potential in
Searching for Sky
. It brings in a lot of really good ideas, but never capitalizes on them. For me, that led to a very lackluster read.
About the author:
Jillian Cantor has a BA in English from Penn State University and an MFA from The University of Arizona. She is the author of award-winning novels for teens and adults including, most recently, the critically acclaimed MARGOT, which was a Library Reads pick for September 2013 and also featured in O the Oprah Magazine, People, Ladies Home Journal, and Time.com. Her next book for teens, SEARCHING FOR SKY, will be published by Bloomsbury US on 5/13/14 and Bloomsbury UK on 7/3/14. A Scholastic edition will also be sold in Scholastic book clubs and fairs in the 2014-15 school year. Born and raised in a suburb of Philadelphia, Jillian currently lives in Arizona with her husband and two sons.