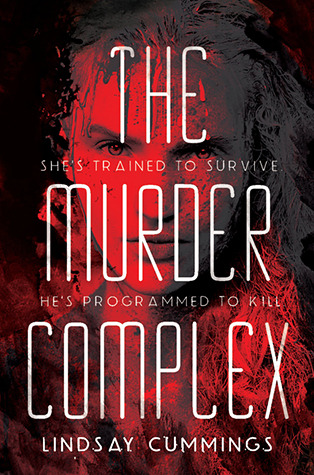 Title:
The Murder Complex
Author:
Lindsay Cummings
Release date:
June 10, 2014
Pages:
400
An action-packed, blood-soaked, futuristic debut thriller set in a world where the murder rate is higher than the birthrate. For fans of Moira Young's Dust Lands series, La Femme Nikita, and the movie Hanna.

Meadow Woodson, a fifteen-year-old girl who has been trained by her father to fight, to kill, and to survive in any situation, lives with her family on a houseboat in Florida. The state is controlled by The Murder Complex, an organization that tracks the population with precision.

The plot starts to thicken when Meadow meets Zephyr James, who is—although he doesn't know it—one of the MC's programmed assassins. Is their meeting a coincidence? Destiny? Or part of a terrifying strategy? And will Zephyr keep Meadow from discovering the haunting truth about her family?

Action-packed, blood-soaked, and chilling, this is a dark and compelling debut novel by Lindsay Cummings.

My teaser, from p. 151 in the hardcover:
I stretch for my dagger. I do not think about the Zephyr of moments ago. I thrust it straight down, into his shoulder. There is a gush of blood, and when I twist the blade, his right arm goes slack.

I crash back into the waves, kick off a piling, and swim for the shore.

He is not Zephyr anymore. He is a monster.
I'm not even this far, but so far I'm enjoying this one! Dark and a bit violent, which I like. :)
I'll be visiting around and visiting back, so leave me links to your teasers! :) Happy Tuesday!