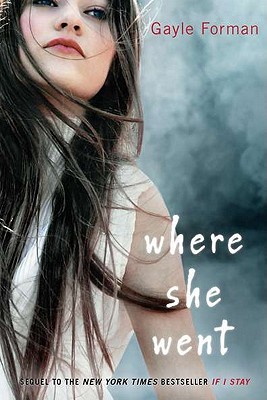 Title:
Where She Went (If I Stay #2)
Author:
Gayle Forman
Release date:
April 5, 2011
Pages:
264
It's been three years since Mia walked out of Adam's life.

And three years he's spent wondering why.

When their paths cross again in New York City, Adam and Mia are brought back together for one life-changing night.

Adam finally has the opportunity to ask Mia the questions that have been haunting him. But will a few hours in this magical city be enough to lay their past to rest, for good - or can you really have a second chance at first love?


My teaser, from p. 112 in the paperback:
I've come to realize there's a world of difference between knowing something happened, even knowing why it happened, and believing it. Because when she cut off contact, yeah, I knew what had happened. But it took me a long, long time to believe it.

Some days, I still don't quite believe it.
I really enjoyed
If I Stay
, but I've heard that this one is better and
will
make me cry (which isn't hard), so we'll see! So far it's just making me sad. Poor Adam.
I'll be visiting around and visiting back, so leave me links to your teasers! :) Happy Tuesday!