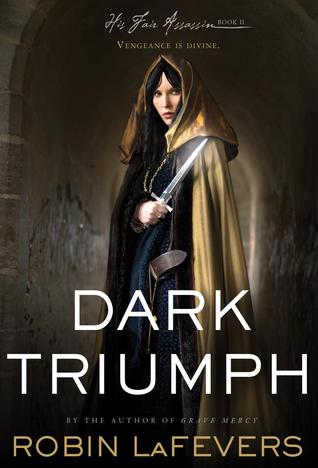 Release date:
April 2, 2013
Author info:
Website
|
Twitter
|
Facebook
Publisher:
Houghton Mifflin Books for Childrfen
Pages:
385
Format:
ARC
Source:
Gifted
Buy the book:
Barnes & Noble
|
Amazon
|
The Book Depository
When Sybella arrived at the doorstep of St Mortain half mad with grief and despair the convent were only too happy to offer her refuge - but at a price. The sisters of this convent serve Death, and with Sybella naturally skilled in both the arts of death and seduction, she could become one of their most dangerous weapons.

But her assassin's skills are little comfort when the convent returns her to the life that nearly drove her mad. Her father's rage and brutality are terrifying, and her brother's love is equally monstrous. But when Sybella discovers an unexpected ally she discovers that a daughter of Death may find something other than vengeance to live for...
Ooh, assassin nuns will get you every time! While
Grave Mercy
was, in fact, pretty awesome, I remember thinking it was a little light on my promised assassin nuns.
Dark Triumph
kicks that idea to the curb, though, because Sybella is not only everything you could want out of an assassin nun, but
Dark Triumph
is also not afraid to look into her complicated psyche, whittle out the damage, and put it under a microscope (figuratively, since there weren't microscopes in the fifteenth century). It's a perfect and potent mix of sweet, sweet assassin-ing (totally a word) and character exploration and development--not to mention there's a wonderfully nuanced and giving romance.
Picking up right at the climax of
Grave Mercy
, only from Sybella's point of view, we're immediately entrenched into the world Sybella has been living in during the time of Ismae's story. Though technically the daughter of Mortain, Sybella was brutally raised by d'Albret, the man trying to take over Brittany from the Duchess, and the abbess has assigned her to spy on her family. This in and of itself is a kind of torture for Sybella, who is haunted by the memories of the life she fled from to the convent, and she is forced to hide her emotions and feelings from those around her, for she doesn't know where anyone's true loyalties lie. The abbess has promised that she'd see Mortain's marque on d'Albret, the promise to kill him is the only reason she agreed to go back to him, and yet it never appears. Instead, she is tasked with finding and aiding the Beast of Waroch, who is believed to be held in d'Albret's dungeons. When her plans go awry, Sybella finds herself believing she could find a life outside of revenge, outside of the darkness of those who raised her.
Robin LaFevers does a wonderful job of slowly unveiling all that has happened to Sybella throughout the book. We can tell she's damaged, and it's the result of her father, but we could never guess just how much. It's a testament to her strength and fortitude that she is able even to face him again, and as we learn more, it's more and more clear what kind of backbone she has. And while I was so pleased to have more action and more scenes of Sybella being awesome, I was even more pleased by the truly transforming journey she takes. It's one thing to face your demons out of a need for revenge, to satisfy a blood lust, but it's another to be able to find the beauty in a life so full of darkness, to help others or even to kill because of love and a need to make the world safe so those people aren't faced by what you've faced. Sybella believes herself to be a dark, evil product of the man she called her father, but, while she is a product of that upbringing, she is a selfless, deeply strong result--and an extraordinary character.
I admit I'm a sucker who spent a lot of the book rooting for my romance (I can't help it!), and it delivers. I root for almost all romance as it is, but you can't help but be transfixed by a romance like that of Sybella and Beast. It's founded on acceptance, because as much as Sybella thinks Beast will turn away or not forgive who she is or what she's done, he accepts it. He doesn't look past it, but he sees how it's shaped her and created the woman he loves. It's just breathtaking, and exactly what Sybella deserves.
I constantly do this, but I'm kind of smacking myself for not reading
Dark Triumph
sooner, yet at the same time, it's kind of wonderful to have muddy expectations. I knew it was going to be good, but I couldn't have guessed how good. I couldn't have expected such wonderfully drawn characters and the beautiful romance (and honestly there are tons of other things I could have gone into, but you'd be reading into tomorrow for those). If it's not clear,
Dark Triumph
is (and I'm sure it's been said dozens of times, but I'm going to do it anyway...) a triumph.
About the author:
Robin LaFevers was raised on a steady diet of fairy tales, Bulfinch's mythology, and 19th century poetry. It is not surprising she grew up to be a hopeless romantic.

Though she has never trained as an assassin or joined a convent, she did attend Catholic school for three years, which instilled in her a deep fascination with sacred rituals and the concept of the Divine. She has been on a search for answers to life's mysteries ever since.

While many of those answers still elude her, she was lucky enough to find her one true love, and is living happily ever after with him in the foothills of southern California.

In addition to writing about teen assassin nuns in medieval Brittany, she writes books for middle grade readers, including the Theodosia books and the Nathaniel Fludd, Beastologist series. You can learn more about those books at www.rllafevers.com.