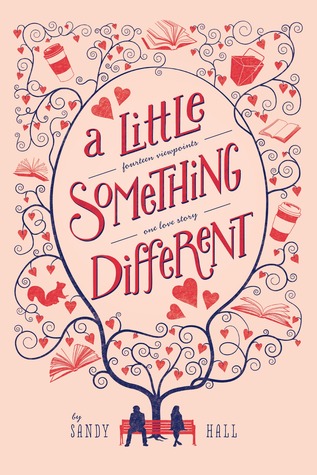 Release date:
August 26, 2014
Author info:
Website
|
Twitter
Publisher:
Swoon Reads
Pages:
272
Format:
Paperback
Source:
Publisher provided for review
Buy the book:
Barnes & Noble
|
Amazon
|
The Book Depository
The distinctive new crowdsourced publishing imprint Swoon Reads proudly presents its first published novel—an irresistibly sweet romance between two college students told from 14 different viewpoints.

The creative writing teacher, the delivery guy, the local Starbucks baristas, his best friend, her roommate, and the squirrel in the park all have one thing in common—they believe that Gabe and Lea should get together. Lea and Gabe are in the same creative writing class. They get the same pop culture references, order the same Chinese food, and hang out in the same places. Unfortunately, Lea is reserved, Gabe has issues, and despite their initial mutual crush, it looks like they are never going to work things out.

But somehow even when nothing is going on, something is happening between them, and everyone can see it. Their creative writing teacher pushes them together. The baristas at Starbucks watch their relationship like a TV show. Their bus driver tells his wife about them. The waitress at the diner automatically seats them together. Even the squirrel who lives on the college green believes in their relationship.

Surely Gabe and Lea will figure out that they are meant to be together....
I read a lot of books I'd describe as cute (Boy, do I like cute books.), but I'm pretty sure
A Little Something Different
takes the cake when it comes to cute. Some of us see the words "fourteen different viewpoints" and want to run away screaming because of horror stories with books with too many POVs. That's not the case here. In a large part, it's why the book is so good. In giving the reader Gabe and Lea's story from the outside, their romance is all the more real. Instead of immersing yourself in the characters (who you still get a really good feel for) of Gabe and Lea, we're immersed in their story, in this one part of their lives. You feel like you're Lea's roommate Maribel, or Gabe's brother Sam, egging the two on, knowing how perfect they'd be for one another. It's an utterly charming effect and an engrossingly adorable read.
A Little Something Different
is really a simple book. It's the story of Gabe and Lea and how they come together. There's little side story--only a bit about what happened to Gabe prior to the start of the book, and really only how it applies to his relationship with Lea--but the book manages to feel full, between the fourteen narrators and the little moments between the two observed by everyone in their lives the book passes quickly. It's actually very refreshing, however, to read a book with almost no angst or unnecessary drama. The problems in Lea and Gabe's relationship are so normal and easily related to that it truly feels like it could be a story your friend is telling you or that you'd be witness to at school.
The only things I think could be a real, consistent turn-off for people are the narrations from the squirrel and the bench. They could easily be read as hokey, but they're certainly not something that bothered me. I mean, squirrels are funny!
This is one of those books that it's hard to find people not to recommend it to. I mean, doesn't everyone like happiness? Sunshine? Rainbows? Puppies? Sweet, awkward, shy people falling in love? Sure, it's not perfect, but boy is it fun.
About the author:
Sandy Hall is a teen librarian from New Jersey where she was born and raised. She has a BA in Communication and a Master of Library and Information Science from Rutgers University. When she isn't writing, or teen librarian-ing, she enjoys reading, marathoning TV shows, and long scrolls through Tumblr. A LITTLE SOMETHING DIFFERENT is her first novel.