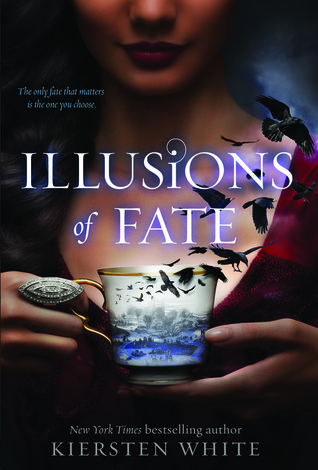 Release date:
September 9, 2014
Author info:
Website
|
Twitter
Publisher:
HarperTeen
Pages:
288
Format:
Egalley
Source:
Publisher provided for review through Edelweiss
Buy the book:
Barnes & Noble
|
Amazon
|
The Book Depository
Downton Abbey meets Cassandra Clare in this lush, romantic fantasy from New York Times bestselling author Kiersten White.

"I did my best to keep you from crossing paths with this world. And I shall do my best to protect you now that you have."

Jessamin has been an outcast since she moved from her island home of Melei to the dreary country of Albion. Everything changes when she meets Finn, a gorgeous, enigmatic young lord who introduces her to the secret world of Albion's nobility, a world that has everything Jessamin doesn't—power, money, status…and magic. But Finn has secrets of his own, dangerous secrets that the vicious Lord Downpike will do anything to possess. Unless Jessamin, armed only with her wits and her determination, can stop him.

Kiersten White captured readers' hearts with her New York Times bestselling Paranormalcy trilogy and its effortless mix of magic and real-world teenage humor. She returns to that winning combination of wit, charm, and enchantment in Illusions of Fate, a sparkling and romantic new novel perfect for fans of Cassandra Clare, The Madman's Daughter, and Libba Bray.
Do you ever have those books that, for whatever reason, just
feel
right when you're reading them? Like it doesn't really matter any failings they might have or what anyone else thinks of them, you just know you love them.
Illusions of Fate
is one of those books for me. There are elements of the book that I think could have been done better and a lot of it would benefit from expansion and more time (even just as a longer book, though I wouldn't have complained about a second book either), but that didn't hinder my reading experience. I still loved the characters and found myself laughing out loud, I was still deeply interested in the world they lived in, and I was definitely invested in their fates.
What made me love
Illusions of Fate
was absolutely the characters. Jessamin is a fish out of water, come to Albion to continue her education and escape her mother's marriage schemes. Her island nation of Melei is basically colonized by Albion, and while she's been raised in the ways of Albion, Jessa's opinion of the country is less than enthusiastic. She loves her home and only wants to become a teacher so she can help her people. She's resistant to the wealth and pomp of the Alben people and heavily reliant on her wits and strength. And as soon as she meets Finn, their back and forth is a delight. He's charming and rich, a lord who pulls Jessa into a game she had no idea was afoot. Finn is just a little dangerous, with knowledge, power, and money more vast than Jessa could imagine, but he's also deeply kind, and his ultimate goal is to prevent Albion from taking over any more countries, to prevent war. Because he unwittingly pulls Jessa into his world, he does all he can to protect her. Their romance takes a while to develop, though the spark is there from the beginning, but it's terribly sweet and so rewarding once it happens.
This isn't even to mention the wonder that is Eleanor! She comes off as flighty and a gossip, but it's a carefully crafted disguise, for she can learn much through gossip and she's constantly underestimated. Her friendship with Jessa is very loyal and she proves herself over and over again to be an asset. Her bright and friendly nature pairs well with Jessa's not so overtly friendly personality as well.
As I said, there are parts of
Illusions of Fate
that felt like they needed more. The political parts and magic were light on details, which was okay in part because Jessa isn't necessarily interested in the politics and can't do magic, and the villain was dealt with very quickly. He's the threat all throughout the book, but his downfall is rather a short scene, and the big reveal is kind of anticlimactic. I didn't expect it, yet I didn't gasp or get upset about it either. The setup and world of
Illusions of Fate
are the kind that I really think need the time to be developed more (I mean, this is less than 300 pages!), and one short book doesn't give enough leeway to do that.
Yet, I unabashedly enjoyed
Illusions of Fate
. The world is just the type that I get most excited about, and the characters are just marvelously fun. Time and time again, I laughed out loud at remarks, or I stopped reading with a big grin on my face. I got so excited every time I got to pick it up and start reading again. It's just one of those books that
got
me, problems or not.
About the author:
Kiersten White is the New York Times bestselling author of the Paranormalcy

trilogy and the

Mind Games

series, as well as

The Chaos of Stars and Illusions of Fate

. She has one tall husband and three small children and lives near the ocean, where her life is perfectly normal. Visit her at www.kierstenwhite.com.