Stacking the Shelves is a weekly meme hosted by Tynga's Reviews where we get to share the books we've bought, been gifted, or received for review!
How was everybody's week? Mine's been good--tiring, but good. No huge haul like last week, which is fine. I did buy a couple of hardcovers--a little different for me. My discount at work does make me more keen to buy them, though--plus the general fact that I have money helps a lot. :)
Purchased: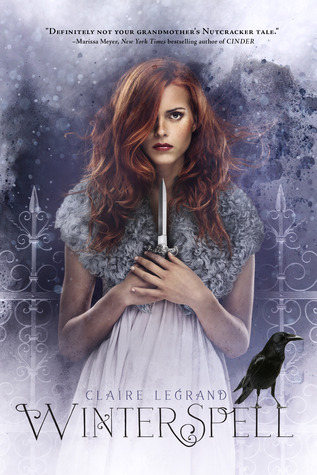 Ruin & Rising (Grisha Trilogy #3)
by Leigh Bardugo
I'm going to Leigh's signing in Nola in November, so obviously I need to read this first (and it's rather a travesty I haven't yet!). I got the Barnes & Noble exclusive edition so I could get the regular hardcover at the bookstore hosting the signing and have both!
Winterspell
by Claire Legrand
It's so preeeeeetty! And sounds so good. Plus I'm going to be reading it with Amaris of
Amaris Afloria
, so I'm excited! :D
Freebie:
This Night So Dark (Starbound #1.5)
by Amie Kaufman & Meagan Spooner
YAYYYYY! I loved the first book so much, so I'm so excited to have any little bit of story! And it's free! :D
A recap of the week here on Paper Cuts:
Monday -
Review: Illusions of Fate by Kiersten White
Tuesday -
Teaser Tuesday: Dark Triumph (His Fair Assassin #2) by Robin LaFevers
Wednesday -
Waiting on Wednesday: The Sacred Lies of Minnow Bly by Stephanie Oakes
Friday -
Review: Dark Triumph (His Fair Assassin #2) by Robin LaFevers
Books I read this week:
Illusions of Fate
by Kiersten White
Dark Triumph (His Fair Assassin #2)
by Robin LaFevers
I'm currently reading:
Kiss of Broken Glass
by Madeleine Kuderick
So that's been my week! I feel like I've been very absent and not reading, though I'm doing a bit. Kiss of Broken Glass is my first verse novel, and so far so good! (I'm not especially far yet...) :) Have a lovely Sunday and a fabulous week!