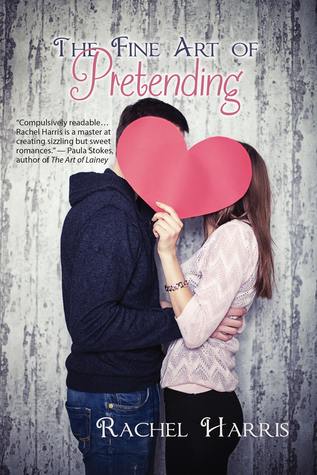 Release date:
September 30, 2014
Author info:
Website
|
Twitter
|
Facebook
Publisher:
Spencer Hill Contemporary
Pages:
256
Format:
Egalley
Source:
Publisher provided through Netgalley
Buy the book:
Barnes & Noble
|
Amazon
|
The Book Depository
According to the guys at Fairfield Academy, there are two types of girls: the kind you hook up with, and the kind you're friends with. Seventeen-year-old Alyssa Reed is the second type. And she hates it. With just one year left to change her rank, she devises a plan to become the first type by homecoming, and she sets her sights on the perfect date—Justin Carter, Fairfield Academy's biggest hottie and most notorious player.

With 57 days until the dance, Aly launches Operation Sex Appeal and sheds her tomboy image. The only thing left is for Justin actually to notice her. Enter best friend Brandon Taylor, the school's second biggest hottie, and now Aly's pretend boyfriend. With his help, elevating from "funny friend" to "tempting vixen" is only a matter of time.

But when everything goes according to plan, the inevitable "break up" leaves their friendship in shambles, and Aly and Brandon with feelings they can't explain. And the fake couple discovers pretending can sometimes cost you the one thing you never expected to want.
You like cute? You like fluffy? Then
The Fine Art of Pretending
is for you! If you want a story that's not fully romance-driven or predictable, I'll go ahead and steer you elsewhere. (These are not the droids you're looking for.)
The Fine Art of Pretending
is exactly what it promises to be, and while it doesn't break any molds, it's still a very enjoyable time getting to the expected conclusion.
Aly is on a mission to change her label for her senior year. No more does she want dance pictures with her girlfriends or just-a-friend dates, so she initiates Operation Sex Appeal. Reading her saying this was just the first moment I wanted to shake some sense into her. Aly is a perfectly likable girl. She's smart, talented, and funny, but she thinks her high school experience isn't complete without this. And I knew (as you have to in reading the synopsis) that she'd eventually come to the idea that she was awesome the way she was and all that jazz, but it always makes me sad when people think they're not good enough just being themselves--real or fictional. This obviously didn't make me dislike her, but it just made me want to sit her down and talk some sense into her all the way through the book.
Speaking of wanting to talk sense into someone, I have to say the same for Brandon. Like Aly, he's clearly a good guy. He's a bit of a player, but he doesn't hurt girls or anything, and he's a great friend to Aly. But his idea that "relationships" as a rule inevitably lead to someone being hurt is just silly. I knew how that'd be resolved (as it was), but I couldn't help wanting to sit down with him and give him some reality as well. So while I enjoyed the book, it's one of those where I feel the need to dole out advice to characters.
Nonetheless,
The Fine Art of Pretending
does a few things really, really well. First, Aly's best friends, Kara and Gabi, are absolutely a highlight. They're so fun, and not only are they super supportive of Aly even in her ill-advised scheme, but they're also fleshed-out characters--and not just in relation to Aly. I also really liked that it didn't take the predictable scheme that Justin was this girl-abusing jerk, showing Aly in that way that she didn't want to be a "casual". He's given a lot more as a character.
So, no,
The Fine Art of Pretending
isn't earth-shattering or even unpredictable. However, it does manage to avoid a few common tropes and deliver a cute romance that you'll be happy you read.
About the author:
Award-winning and bestselling author Rachel Harris writes humorous love stories about sassy girls next door and the hot guys that make them swoon. Emotion, vibrant settings, and strong relationships are a staple in each of her books...and kissing. Lots of kissing.

An admitted Diet Mountain Dew addict and homeschool mom, she gets through each day by laughing at herself, hugging her kids, and watching way too much Food Network with her husband. She writes young adult, new adult, and adult romance, and LOVES talking with readers.