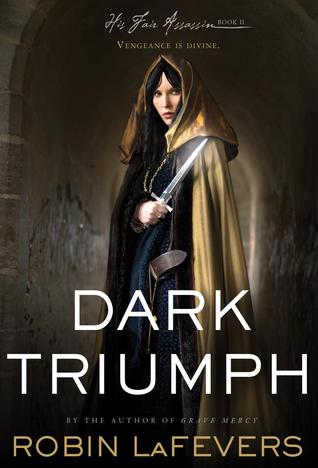 Title:
Dark Triumph (His Fair Assassin #2)
Author:
Robin LaFevers
Release date:
April 2, 2013
When Sybella arrived at the doorstep of St Mortain half mad with grief and despair the convent were only too happy to offer her refuge - but at a price. The sisters of this convent serve Death, and with Sybella naturally skilled in both the arts of death and seduction, she could become one of their most dangerous weapons.

But her assassin's skills are little comfort when the convent returns her to the life that nearly drove her mad. Her father's rage and brutality are terrifying, and her brother's love is equally monstrous. But when Sybella discovers an unexpected ally she discovers that a daughter of Death may find something other than vengeance to live for...


My teaser, from p. 113 in the ARC:
"You're lucky you only got a clout to the jaw." He squints up at me again, as if trying to make sense of something in his mind. "Besides, you looked afraid," he mutters.

I gape at him. "Now who has feathers for brains? I had a mission--there--was no fear involved." But that is a lie. I was terrified, and I hate that he saw it.
I've had this for ages, but am finally reading it! I'm not far--so far so good, though. Gotta get to
Mortal Heart
soon! :D
I'll be visiting around and visiting back, so leave me links to your teasers! :) Happy Tuesday!