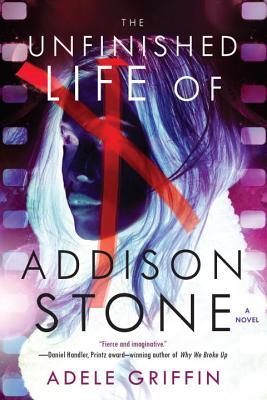 Release date:
August 12, 2014
Author info:
Website
|
Twitter
|
Facebook
Publisher:
Soho Teen
Pages:
256
Format:
Egalley
Source:
Publisher provided for review
Buy the book:
Barnes & Noble
|
Amazon
|
The Book Depository
National Book Award-finalist Adele Griffin tells the fully illustrated story of a brilliant young artist, her mysterious death, and the fandom that won't let her go.

From the moment she stepped foot in NYC, Addison Stone's subversive street art made her someone to watch, and her violent drowning left her fans and critics craving to know more. I conducted interviews with those who knew her best—including close friends, family, teachers, mentors, art dealers, boyfriends, and critics—and retraced the tumultuous path of Addison's life. I hope I can shed new light on what really happened the night of July 28.
—Adele Griffin
The Unfinished Life of Addison Stone
is the story of one girl's genius and how her rising star was extinguished by reckless decisions. It's heartbreaking and fascinating, and a story that would be compelling no matter how it were to be told. However, Addison Stone's story is told in interviews with friends, family, and those around her, with brief input from Addison herself through interviews with magazines and her art. You're given all sides of a story and a tragedy, with each person's view of Addison tinging their narration of the major events of her life, her fast rise to ubiquity, and her equally fast fall to infamy.
Very early on, it was clear Addison Stone was different. Her art was mature and passionate, deep and revelatory. Though coming from a poor, deeply dysfunctional family, Addison and her talent are nurtured by her best friend's family and high school art teachers, who eventually get her into the art world of New York. Already tinged by mental illness, Addison takes the city by storm, but her genius proves too much to handle. No one knows if her death was suicide, murder, or an accident, but she left her mark on the world.
Griffin paints an astonishingly real portrait of a girl who we hear very little from. At first it seems as if she's idolized, seen through a lens of a fan, but this idea was quickly shattered, as her imperfections and flaws were brought to light. She was talented but becomes too confident, with an established idea of who she should be, even if that meant trampling others on the way. It's a nuanced depiction that makes Addison truly feel like a real person, gone too soon. The whole book is alive with her essence.
The Unfinished Life of Addison Stone
is a completely unique reading experience that you don't want to miss. As it intricately explores how Addison left those in her life behind, it paints a riveting picture of a talented, fascinating girl who left her indelible mark on the world.
About the author:
Adele Griffin is a two-time National Book Award Finalist and highly acclaimed author of numerous books for Young Adult and middle grade readers. Her works include Sons of Liberty and Where I Want to Be, as well as the popular Witch Twins and Vampire Island series. Her most recent thriller Loud Awake and Lost will be out this fall from Knopf.
Adele lives with her husband, Erich, their two young children, and their dog, Edith, in Brooklyn, New York.
This is not a normal blog tour. We were asked to create our own tribute to Addison, anything we wanted. And while I'm far from an artist, I had this idea and visual while reading. Were I an artist it probably would have translated to reality a lot better (writing words with a paintbrush is hard!), but I tried. I kept thinking about how Addison was forever to be defined by her art and by what those around her remembered and passed on, so I took phrases, words, and painting titles from the book and surrounded a silhouette of Addison with them. While they may come close to explaining her, they'll never truly be able to capture her.
a Rafflecopter giveaway