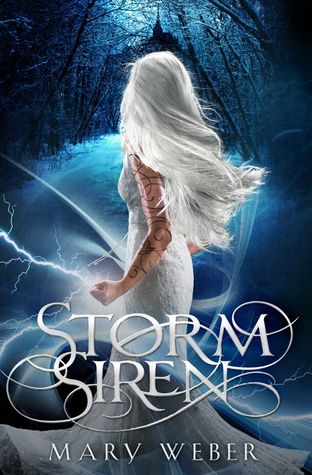 Title:
Storm Siren
Author:
Mary Weber
Release date:
August 19, 2014
"I raise my chin as the buyers stare. Yes. Look. You don't want me. Because, eventually, accidentally, I will destroy you."

In a world at war, a slave girl's lethal curse could become one kingdom's weapon of salvation. If the curse—and the girl—can be controlled.

As a slave in the war-weary kingdom of Faelen, seventeen-year-old Nym isn't merely devoid of rights, her Elemental kind are only born male and always killed at birth — meaning, she shouldn't even exist.

Standing on the auction block beneath smoke-drenched mountains, Nym faces her fifteenth sell. But when her hood is removed and her storm-summoning killing curse revealed, Nym is snatched up by a court advisor and given a choice: be trained as the weapon Faelen needs to win the war, or be killed.

Choosing the former, Nym is unleashed into a world of politics, bizarre parties, and rumors of an evil more sinister than she's being prepared to fight . . . not to mention the handsome trainer whose dark secrets lie behind a mysterious ability to calm every lightning strike she summons.

But what if she doesn't want to be the weapon they've all been waiting for?

Set in a beautifully eclectic world of suspicion, super abilities, and monsters, Storm Siren is a story of power. And whoever controls that power will win.

My teaser, from 21% in the egalley:
I shake my head. I want to plug my ears. Stop talking to me, I want to tell him. Stop pretending you have any idea what I'm capable of. You have no right. But none of those words come.

Because it's the first time anyone's ever called my curse a gift.

I shoot him a look of disgust. "You're an idiot," I say, and stroll out the door.
Happy release day to
Storm Siren
! This was one I'd not paid much attention to until I read a couple of raving reviews, which made me sit up and realize how good it sounded. :D
I'll be visiting around and visiting back, so leave me links to your teasers! :) Happy Tuesday!