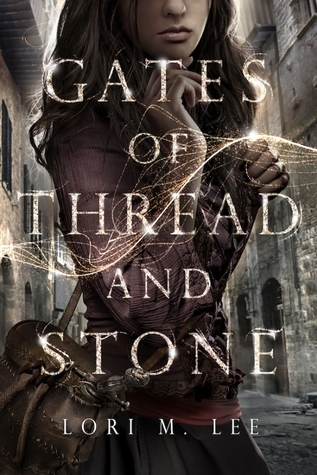 Release date:
August 5, 2014
Author info:
Website
|
Twitter
|
Facebook
Publisher:
Skyscape
Pages:
348
Format:
Egalley
Source:
Publisher provided through Netgalley
Buy the book:
Barnes & Noble
|
Amazon
|
The Book Depository
In the Labyrinth, we had a saying: keep silent, keep still, keep safe.

In a city of walls and secrets, where only one man is supposed to possess magic, seventeen-year-old Kai struggles to keep hidden her own secret—she can manipulate the threads of time. When Kai was eight, she was found by Reev on the riverbank, and her "brother" has taken care of her ever since. Kai doesn't know where her ability comes from—or where she came from. All that matters is that she and Reev stay together, and maybe one day move out of the freight container they call home, away from the metal walls of the Labyrinth. Kai's only friend is Avan, the shopkeeper's son with the scandalous reputation that both frightens and intrigues her.

Then Reev disappears. When keeping silent and safe means losing him forever, Kai vows to do whatever it takes to find him. She will leave the only home she's ever known and risk getting caught up in a revolution centuries in the making. But to save Reev, Kai must unravel the threads of her past and face shocking truths about her brother, her friendship with Avan, and her unique power.
I was seriously excited to get my hands on a copy of
Gates of Thread and Stone
. With a synopsis that is delightfully intriguing and that promises the manipulation of time, I couldn't wait to start reading. The reading itself was...to put it bluntly, disappointing. The ideas behind the story, much of Kai's personality, and the worldbuilding were good, but certain parts weren't up to snuff.
The beginning of
Gates of Thread and Stone
introduces to a dark city surrounded by walls that protect its inhabitants from gargoyles, reptilian experiments gone wrong, and (supposedly) from the mysterious Black Rider. Kai and her adopted older brother Reev live a hard life, but not an unhappy one. But when Reev goes missing, Kai will not settle for the hopeless story that he's been taken by the Black Rider and that she'll never see him again. With her friend Avan by her side, Kai will stop at nothing to find Reev. In meeting Kai, she's headstrong, and her loyalty to her brother is especially endearing. I liked her a lot, and felt like she would be a great heroine to follow through the story. I liked the sound of the world, and I couldn't wait to hear more about what destroyed the rest of the world outside of Ninurta. Generally, this all was fine throughout (best at the beginning, but not terrible in the rest), though I did find myself thinking Kai felt younger than she was written as being. Her naivety was just a bit too blind for someone with her supposed amount of street sense and experience.
There are a few disappointing parts of
Gates of Thread and Stone
, but the most was that we're promised this cool ability to manipulate time in Kai, yet we barely see it. She spends all of her time suppressing and trying to hide it, which makes sense in he scheme of the book, I guess, but that's what largely held so much interest for me, and to see this go largely unused was disappointing. My other big thing is mighty spoilery, but suffice to say I wish she'd taken the harder path for the character, instead of copping out, because it'd have made for a more compelling ending and, likely, sequel.
Gates of Thread and Stone
isn't a bad book. It's compelling, and the ideas behind the story are really interesting and manage to create a world that wraps the apocalypse and veins of high fantasy together. And while it wasn't a perfect read, I mostly enjoyed it and will be reading the sequel.
About the author:
Lori is the author of young adult fantasy Gates of Thread and Stone, coming August 5, 2014 from Skyscape. She has a borderline obsessive fascination with unicorns, is fond of talking in capslock, and loves to write about magic, manipulation, and family. She lives in Wisconsin with her husband, kids, and a friendly pitbull.