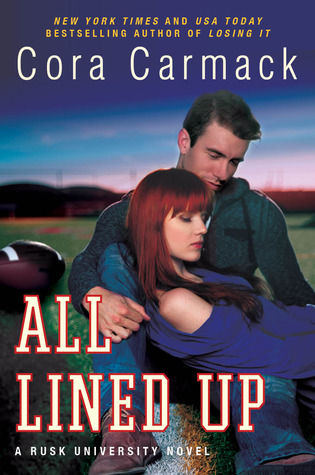 Release date:
May 13, 2014
Author info:
Website
|
Twitter
|
Facebook
Publisher:
William Morrow
Pages:
320
Format:
Ebook
Source:
Purchased
Buy the book:
Barnes & Noble
|
Amazon
|
The Book Depository
In Texas, two things are cherished above all else—football and gossip. My life has always been ruled by both.

Dallas Cole loathes football. That's what happens when you spend your whole childhood coming in second to a sport. College is her time to step out of the bleachers, and put the playing field (and the players) in her past.

But life doesn't always go as planned. As if going to the same college as her football star ex wasn't bad enough, her father, a Texas high school coaching phenom, has decided to make the jump to college ball… as the new head coach at Rusk University. Dallas finds herself in the shadows of her father and football all over again.

Carson McClain is determined to go from second-string quarterback to the starting line-up. He needs the scholarship and the future that football provides. But when a beautiful redhead literally falls into his life, his focus is more than tested. It's obliterated.

Dallas doesn't know Carson is on the team. Carson doesn't know that Dallas is his new coach's daughter.

And neither of them know how to walk away from the attraction they feel.
Cora Carmack's
Losing It
was the first "new adult" book I read and what originally sold me on the genre, since I really enjoyed it, so I knew I needed to try out her new series no matter what. But add that it has a distinct
Friday Night Lights
feel (a show with which I am currently obsessed) and deals with college football (a subject I know more about now than I could have ever thought I would, thanks to attending a SEC school),
All Lined Up
became a can't-miss book. And luckily, it lived up to the idea I'd created in my head.
I really enjoyed the romance between Dallas and Carson. It looks like it's going to be fast-moving at the beginning, but slows down and they're able really to get to know one another--despite their attraction--and help the other out. Each is very hard working and driven, trying to find themselves in college.
I also have to point out that Cora Carmack does a fantastic job with both Dallas and Carson's friends. Each really has one that's focused on, but their relationships aren't sidelined (FOOTBALL TERM) or forgotten once the romance comes into play. Really, the friendships are more developed as the story goes on.
But, of course, what I loved most about
All Lined Up
is the relationship between Dallas and her dad. It's not the best, but their love for one another is really clear--even when they're yelling at one another. Each has their qualms with the other, but they want it to be better. As a side note, I also loved the author's note at the end, where Cora talked about how much of the story comes from her own experiences with a football coach father and that writing the book aided her in repairing parts of their relationship. It's heartwarming to see what the book was able to do.
All Lined Up
is certainly a quick and fun read, but it's also filled with a sweet romance, very strong friendships, and a mending father-daughter relationship. It's for those football fans, but also for those who just love a story that will make you happy to finish.
About the author:
Cora Carmack is a twenty-something writer who likes to write about twenty-something characters. She's done a multitude of things in her life-- boring jobs (like working retail), fun jobs (like working in a theatre), stressful jobs (like teaching), and dream jobs (like writing). She enjoys placing her characters in the most awkward situations possible, and then trying to help them get a boyfriend out of it. Awkward people need love, too. She is the New York Times and USA Today bestselling author of the Losing It series.