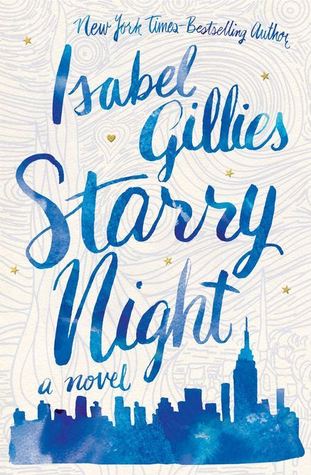 Title:
Starry Night
Author:
Isabel Gillies
Release date:
September 2, 2014
Sometimes one night can change everything. On this particular night, Wren and her three best friends are attending a black-tie party at the Metropolitan Museum of Art to celebrate the opening of a major exhibit curated by her father. An enormous wind blasts through the city, making everyone feel that something unexpected and perhaps wonderful will happen. And for Wren, that something wonderful is Nolan. With his root-beer-brown Michelangelo eyes, Nolan changes the way Wren's heart beats. In Isabel Gillies's Starry Night, suddenly everything is different. Nothing makes sense except for this boy. What happens to your life when everything changes, even your heart? How much do you give up? How much do you keep?




My teaser, from 20% in the egalley:
"I saw that," Farah said, as she screwed the lip gloss top back on and put it in her clutch. "He's into you. Let's go." My heart leaped with hope. Farah may like inappropriately older guys, but she's smart about looks and the vibes people give.

"Wait," Charlie said, not hearing what Farah had said to me, "to keep body and soul together"--he pulled a small brown paper bag out of his blazer pocket--"Swedish Fish."
The blog tour for this one stops by on Friday with a guest post, so I'm starting this today! Hopefully it's good. :)
I'll be visiting around and visiting back, so leave me links to your teasers! :) Happy Tuesday!