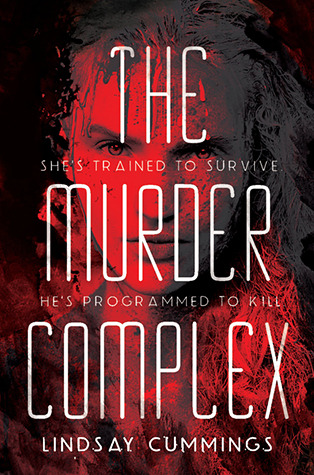 Release date: June 10, 2014
Publisher: Greenwillow Books
Format: Egalley
Source: Publisher provided for review
An action-packed, blood-soaked, futuristic debut thriller set in a world where the murder rate is higher than the birthrate. For fans of Moira Young's Dust Lands series, La Femme Nikita, and the movie Hanna.

Meadow Woodson, a fifteen-year-old girl who has been trained by her father to fight, to kill, and to survive in any situation, lives with her family on a houseboat in Florida. The state is controlled by The Murder Complex, an organization that tracks the population with precision.

The plot starts to thicken when Meadow meets Zephyr James, who is—although he doesn't know it—one of the MC's programmed assassins. Is their meeting a coincidence? Destiny? Or part of a terrifying strategy? And will Zephyr keep Meadow from discovering the haunting truth about her family?

Action-packed, blood-soaked, and chilling, this is a dark and compelling debut novel by Lindsay Cummings.
The Murder Complex
is one of those books that appealed to me from the beginning. I'm all for dark, gritty, and violent. The synopsis sells
that element of the book, and the book delivers.
While what drew me into The Murder Complex to begin with and got me going in the book was the gritty, violent world promised, it was really the characters that kept me reading. Meadow is interesting and different from a lot of YA characters in that, yes, like most she'll sacrifice for her family, but she'll also kill. There's this line that a lot of authors don't push their characters past, and it's interesting to see the psyche of someone who is both willing to kill and who does kill. At the same time, she's not cold-blooded, she's not distant. She's very present and loving, especially towards her younger sister, Peri. It's this love that pushes her, the love that hopes she can keep her sister from having to make the same sacrifices she has. She is a product of the society she lives in, but she's never without motive and love.
Zephyr is just as interesting as Meadow. His history seems to be simple, and his memories are few in number but happy. Everything is upended in Zephyr's life, though. He knows he kills, but he has little recollection and cannot stop himself. He spends each and every day mourning those he has murdered and trying to help new, inexperienced orphans survive. He's gentle at heart, but that is at odds with what he does in the Dark Hour. His journey into finding out who he truly is and where he comes from is fascinating.
Seriously, the action here does nothing but deliver. Chapter after chapter after chapter. If that's your kind of thing, this is awesome and addicting. If it's not, it's hard to say you'll enjoy this novel. That being said, it pretty much made me want to jump around and throw knives (though not kill people, obviously). I kept turning page after page, left at the end of each chapter with new questions that needed answers--immediately.
I can tell you the romance is going to bother people, because it's tinged with that oft-hated characteristic of instalove, but, aside from Meadow and Zephyr thinking things, there's not much acted on. The beginning is a little confusing hopping in, because you're given lots of capitalized names that you don't know the meaning of, but the world is built immensely well and you understand soon enough. These are things that sit in the back of my mind, personally, but didn't really ever actively bother me.
I had a great time reading The Murder Complex (which may seem odd, considering the word murder is in the title, but I digress). I read three-quarters of the book in one very excited sitting. It's just teeming with interesting characters, great world building, and plot. So, if you're a fan of dark, blood-soaked, and gritty books, The Murder Complex is for you.
Follow the FFBC The Murder Complex + Fear Trials blog tour and don't miss anything! Click on the banner to see the tour schedule.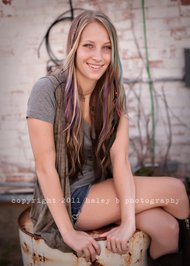 Lindsay Cummings is the 20-year-old author of THE MURDER COMPLEX, as well as its sequel, coming 2014 from Greenwillow Books/HarperCollins, and the MG trilogy THE BALANCE KEEPERS, coming Fall 2014 from Katherine Tegen Books/HarperCollins.

Lindsay deals with chronic fatigue, can't get enough of her two pesky German Shepherds, wolf cub, and two horses. She's still waiting on her letter from Hogwarts--it was probably just lost in the mail. You can follow Lindsay on Twitter @lindsaycwrites.
Win (1) of (3) signed hardback of The Murder Complex + swag pack (US Only)