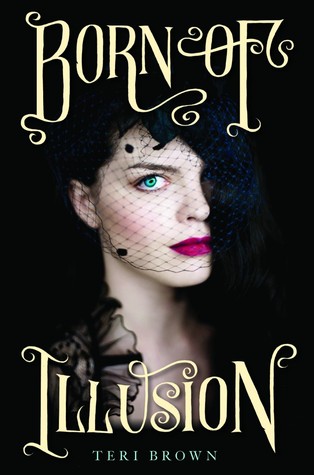 Release date:
June 11, 2013
Author info:
Website
|
Twitter
|
Facebook
Publisher:
Balzer + Bray
Pages:
373
Format:
Hardcover
Source:
Won
Buy the book:
Barnes & Noble
|
Amazon
|
The Book Depository
Anna Van Housen has a secret.

A gifted illusionist, Anna assists her mother, the renowned medium Marguerite Van Housen, in her stage show and séances, easily navigating the underground world of magicians, mediums, and mentalists in 1920's New York. As the illegitimate daughter of Harry Houdini—or so Marguerite claims—sleight of hand illusions have never been a challenge for Anna. The real trick is keeping her own gifts secret from her opportunistic mother. Because while Marguerite's own powers may be a sham, Anna possesses a true ability to sense people's feelings and foretell the future.

But as Anna's powers intensify, she begins to experience frightening visions of her mother in peril, which leads her to explore the powers she's tried so long to hide. And when a mysterious young man named Cole moves into the flat downstairs, introducing Anna to a secret society that studies people with gifts like hers, she is forced to confront her past and rethink everything she's ever known. Is her mother truly in danger, or are Anna's visions merely illusion? And could the great Houdini really be her father, or is it just another of Marguerite's tricks?

From Teri Brown comes a world bursting with magic, with romance, and the temptations of Jazz Age New York—and the story of a girl about to become the mistress of her own destiny.
I knew I wanted to read
Born of Illusion
for a reason! It took me forever to get around to reading it, but if you're like me and been putting this one off, I'd recommend you stop that and pick this one up as soon as possible. It's set in New York during the roaring twenties, with all the glitz glamour, jazz, flappers, and fascination with the afterlife that it entails.
Born of Illusion
is an immensely fun and appealing read.
Anna Van Housen and her mother have a complicated relationship. Her mother is a "medium" who performs both shows and private seances, but Anna is the real thing. They've come to New York hopefully to settle down in a more permanent job, and all Anna wants is a normal life, away from the constant travelling and breaking her mother out of jail that permeated her childhood. This hard relationship between Anna and Marguerite and the idea of a performer's life versus a normal life form much of the foundation of the book, and ground it really well in the real world when most of the rest of the story is based in the spiritual world.
Fair warning, there is a love triangle kind of thing going on, but it's pretty obvious Anna's preference and it's completely and totally resolved by the end of the book. Otherwise, I thought the romance was really cute and appealing, even as it's not the most important part of the story.
And it's so cool that a book that is all about magic is so focused on character. Not only does Anna have a great progression both as a character and in her relationships, but we're given the growth of so many other characters and her relationships with them. Through experience she comes to understand her mother, their manager, Cole, her neighbor, and Houdini (Yes, we see Houdini! In the literary flesh!) so much more and is a much more compassionate and empowered character because of it.
Born of Illusion
manages both to be exciting and interesting in the magic elements of the story and character-driven at the same time. It's such a fun read, too! If you haven't picked up and started this series yet, I urge haste, I really do. I know I'll be reading the sequel,
Born of Deception
, as soon as possible.
About the author:
Well behaved women rarely make history. Teri Brown lived that quote way before she ever even heard it. The two things she is most proud of, (besides her children), is that she jumped out of an airplane once and she beat the original Legend of Zelda video game. She is a novel writer, head banger, pet keeper, math hater, cocktail drinker, booty shaker, book reader, city slicker, food fixer, French kisser, rule breaker, wine sipper and word scribbler. She loves her husband, kitties and chocolate.