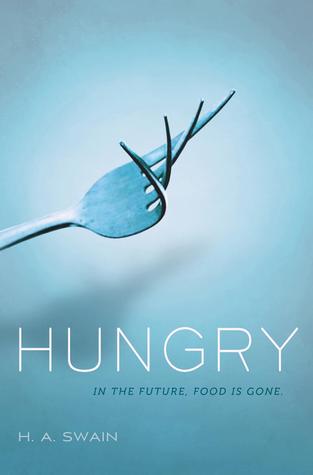 Title:
Hungry
Author:
H.A. Swain
Release date:
June 3, 2014
Pages:
384
In the future, food is no longer necessary—until Thalia begins to feel something unfamiliar and uncomfortable. She's hungry.

In Thalia's world, there is no need for food—everyone takes medication (or "inocs") to ward off hunger. It should mean there is no more famine, no more obesity, no more food-related illnesses, and no more war. At least that's what her parents, who work for the company that developed the inocs, say. But when Thalia meets a boy who is part of an underground movement to bring food back, she realizes that most people live a life much different from hers. Worse, Thalia is starting to feel hunger, and so is he—the inocs aren't working. Together they set out to find the only thing that will quell their hunger: real food.

H. A. Swain delivers an adventure that is both epic and fast-paced. Get ready to be Hungry.

My teaser, from 30% in the egalley:
Then Ana does the strangest thing I've ever witnessed. She reaches into the tin with her fingers, brings out a small flat piece of something light brown, holds it up for us to see, then pops it in her mouth! She closes her eyes and works her jaw. A smile spreads over her face as she swallows. "Ahhh," she says and opens her eyes again. "Food."
Happy release day to
Hungry
! I'm really curious about this one! The idea of replacing food with something more efficient is one that's been around a long time, but I'm not sure I've seen a book that really focuses on it. Might be gooood! :)
I'll be visiting around and visiting back, so leave me links to your teasers! :) Happy Tuesday!