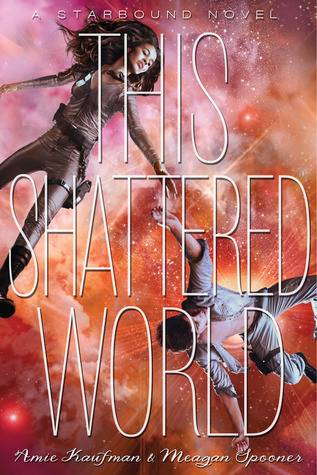 Release date:
December 23, 2014
Amie's info:
Twitter
|
Facebook
Meagan's info:
Twitter
|
Facebook
Publisher:
Disney-Hyperion
Pages:
390
Format:
Egalley
Source:
Publisher provided for review through Netgalley
Buy the book:
Barnes & Noble
|
Amazon
|
The Book Depository
The second installment in the epic Starbound trilogy introduces a new pair of star-crossed lovers on two sides of a bloody war.

Jubilee Chase and Flynn Cormac should never have met.

Lee is captain of the forces sent to Avon to crush the terraformed planet's rebellious colonists, but she has her own reasons for hating the insurgents.

Rebellion is in Flynn's blood. Terraforming corporations make their fortune by recruiting colonists to make the inhospitable planets livable, with the promise of a better life for their children. But they never fulfilled their promise on Avon, and decades later, Flynn is leading the rebellion.

Desperate for any advantage in a bloody and unrelentingly war, Flynn does the only thing that makes sense when he and Lee cross paths: he returns to base with her as prisoner. But as his fellow rebels prepare to execute this tough-talking girl with nerves of steel, Flynn makes another choice that will change him forever. He and Lee escape the rebel base together, caught between two sides of a senseless war.
Whew! It's so scary to go into a sequel (sort of sequel, more a companion?) to a book you loved, and boy did I love
These Broken Stars
. I don't know that I've read another book that made me emotional (read: freak out) in that way that it did, so
This Shattered World
was both unrelentingly exciting to get into and horribly terrifying. I mean, what happens if I don't love this one? How could it possibly live up? Those fears were gone very quickly.
This Shattered World
, while a very different book with very different characters, is just as wonderful as its predecessor. It's got a new world and a whole new set of characters (with an exciting--and maybe a bit squeal-inducing--visit from Lilac and Tarver), but all of the elements that made the first book such an excellent read are there and working just as effectively.
I just can't get over Jubilee Chase. Like Lilac, she's got rather a misleadingly cheery name. Jubilee is just fantastic. She comes off as cold and unfeeling (Stone-Cold Chase is her nickname), but the hard exterior is her coping mechanism. She's got a painful past that colors how she sees her world, yet she's loyal and ready to do anything to defend others. Though she's got a strong opinion on the rebels at the beginning of the book, she's not slow to change her opinions once she's given reason to see differently--she never ignores the truth in front of her and trusts her gut feelings. And she and Flynn work so well together. He's loose and cocky where she's stiff and realistic. Both suffer because of their pasts, but those pasts influence their decisions--though never in a harmful way. They quickly come together to create a better future for Avon, not to defend the army or the rebel's point of view.
And oh, the romance is just perfect. It's not as heavy as in the first book, but that's what suits the characters and their story. Their goal is to help the planet and the people on it, rebels and army alike. Jubilee and Flynn know they will have to make hard choices, and a relationship is a distraction. They want it, but they also can see the bigger picture. It wouldn't work for the book in any other way, either.
Even with the great characters and the romance, the world stands out. I mean, Avon is a completely new planet to us and it quickly felt familiar. The threat from LaRoux Industries is only growing, and it builds up nicely in this second installment. This coming to a head will undoubtedly be a favorite part of the third book.
As most of us are heading into reading this with trepidation after loving Lilac and Tarver and
These Broken Stars
, I can honestly say there's no need to worry. It's a quick and easy transition into loving Jubilee and Flynn and rooting for them just as hard.
About the authors:
Amie Kaufman and Meagan Spooner are longtime friends and sometime flatmates who have traveled the world (but not yet the galaxy), covering every continent between them. They are sure outer space is only a matter of time. Meagan, who is also the

author of the SKYLARK trilogy, currently lives in Asheville, North Carolina, while Amie lives in Melbourne, Australia. Although they currently live apart, they are united by their love of space opera, road trips, and second breakfasts.





Visit the

These Broken Stars website

for the latest news on the series and follow the authors on Twitter at

@AmieKaufman

and

@MeaganSpooner

.

This Shattered World

is available for pre-order

(with fun swag!) and will be released in North America on December 23, 2014.
A million, trillion thanks to the ladies at
The Midnight Garden
for letting me be a part of this tour! (I might've fangirled hard in my signup...) The Starbound books quickly became a favorite series of mine last year, so anything and everything I could do to help, I would. :)
Now, there's also this huge, wonderful pre-order incentive going on, which you will hate to miss (I promise!). You know how pretty those covers are, right? I mean, scroll up and look at it! Well, if you pre-order
This Shattered World
from Books of Wonder, you will get a shiny giant beautiful print of that very cover art! (Along with a signed copy of the book and a bookmark!) Y'all. Y'all. I have the poster from
These Broken Stars
, and it's pretty much my favorite thing in the entire world. I swear you will love it. (I'm seriously not exaggerating, though I am known to speak in hyperbole.)
Anyway, here's the info in a pretty image:
I know why you've gotten this far! The tour-wide giveaway for
This Shattered World
is BEYOND amazing, y'all. You'll kick yourself if you don't at least enter, and I'd like to spare you some pain, so ENTER! :D
You could win:
One of FIVE signed hardcover copies of
This Shattered World
OR the grand prize, which includes:
Signed copies of both books
Starbound swag
A SECRET LETTER FROM TARVER TO LILAC (emphasis mine, because OH MY GOSH), which may be kept private or shared online
Coffee with the authors at one of their upcoming US tour stops OR a Skype chat!
See why I'm freaking out, y'all????
a Rafflecopter giveaway