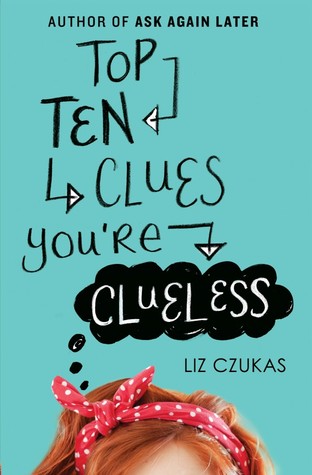 Title:
Top Ten Clues You're Clueless
Author:
Liz Czukas
Release date:
December 9, 2014
Top Five Things That Are Ruining Chloe's Day:
5) Working the 6:30 a.m. shift at GoodFoods Market
4) Crashing a cart into a customer's car right in front of her snarky coworker Sammi
3) Trying to rock the "drowned rat" look after being caught in a snowstorm
2) Making zero progress with her crush, Tyson (see #3)
1) Being accused—along with her fellow teenage employees—of stealing upwards of $10,000

Chloe would rather be anywhere than locked in work jail (aka the break room) with five of her coworkers . . . even if one of them is Tyson. But if they can band together to clear their names, what looks like a total disaster might just make Chloe's list of Top Ten Best Moments.


My teaser, from 13% in the egalley:
THINGS GABE ROSSI IS GOOD AT:
1. Being charming.
2. Flirting with middle-aged yoga moms.
3. Playing basketball--according to him.
4. Getting the credit card scanner to work even when no one else can seem to make it read.

THINGS GABE ROSSI IS NOT GOOD AT:
1. Getting to work on time.
2. Bagging groceries.
3. Working the register and bagging groceries at the same time.
4. Not flirting with middle-aged yoga moms.
I loooved Liz's first book,
Ask Again Later
, so of course I'm seriously excited for her second one! :D
I'll be visiting around and visiting back, so leave me links to your teasers! :) Happy Tuesday!