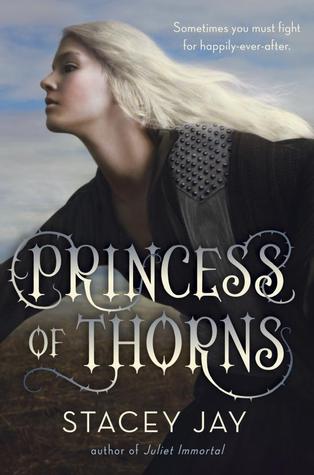 Title:
Princess of Thorns
Author:
Robin LaFevers
Release date:
December 9, 2014
Game of Thrones meets the Grimm's fairy tales in this twisted, fast-paced romantic fantasy-adventure about Sleeping Beauty's daughter, a warrior princess who must fight to reclaim her throne.

Though she looks like a mere mortal, Princess Aurora is a fairy blessed with enhanced strength, bravery, and mercy yet cursed to destroy the free will of any male who kisses her. Disguised as a boy, she enlists the help of the handsome but also cursed Prince Niklaas to fight legions of evil and free her brother from the ogre queen who stole Aurora's throne ten years ago.

Will Aurora triumph over evil and reach her brother before it's too late? Can Aurora and Niklaas break the curses that will otherwise forever keep them from finding their one true love?


My teaser, from 17% in the egalley:
My small triumph cheers me until a flash of black draws my eyes to the sky above the valley. There, dozens of vultures--crooked wings spread wide and bald heads craned toward the ground--drift in slow, relentless circles in the fading light, searching the world below for the ogre queen's prey.
Happy release day to
Princess of Thorns
! Do you need to see anything else past "Game of Thrones meets Grimm's fairy tales"?? :D
I'll be visiting around and visiting back, so leave me links to your teasers! :) Happy Tuesday!