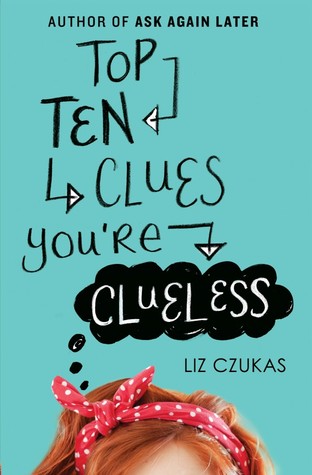 Release date:
December 9, 2014
Author info:
Website | Facebook | Twitter
Publisher:
HarperTeen
Pages:
304
Format:
Egalley
Source:
Publisher provided for review through Edelweiss
Buy the book:
Barnes & Noble
|
Amazon
|
The Book Depository
Top Five Things That Are Ruining Chloe's Day

5) Working the 6:30 a.m. shift at GoodFoods Market

4) Crashing a cart into a customer's car right in front of her snarky coworker Sammi

3) Trying to rock the "drowned rat" look after being caught in a snowstorm

2) Making zero progress with her crush, Tyson (see #3)

1) Being accused—along with her fellow teenage employees—of stealing upwards of $10,000

Chloe would rather be anywhere than locked in work jail (aka the break room) with five of her coworkers . . . even if one of them is Tyson. But if they can band together to clear their names, what looks like a total disaster might just make Chloe's list of Top Ten Best Moments.
After loving Liz Czukas's adorable
Ask Again Later
early this year, I knew I had to get my hands on
Top Ten Clues You're Clueless
as soon as possible. While altogether a much simpler story, she still imbues her writing with such personality and fun that it's hard to tear yourself away from reading.
Top Ten Clues You're Clueless
is exactly the kind of story I imagine
The Breakfast Club
is. Honestly, I've never seen the movie, but it's that idea of a bunch of seemingly different teenagers brought together by force bonding and ending up the better for it. Is that close? Even if it's not, that's the goodness that you get here. Chloe works in the GoodFoods Market, where she's not really close to her co-workers, but someone steals a large amount of money from a donation box and the teenaged employees are accused and forced to stay after hours on Christmas Eve. The fun you'd expect ensues. And who knew the goings on of a supermarket could be such fun? Between Chloe's lists, including things like most random groupings of items purchased, and what the group gets into, it's completely entertaining, and the pages fly by.
Yes, the mystery of who stole the money isn't exactly a head-scratcher, but it's one of those things where you simply enjoy the ride to get to the inevitable conclusion. Focusing on the whodunit of the book really misses the point, though. Chloe comes to see her co-workers in a new light, not only making friends out of people she'd never expect to be friends with, but opening up to them, both about herself and to see them in a new light.
Top Ten Clues You're Clueless
is really a delight to read. It's quick and fun, and actually a great book for the holidays, since it's set on Christmas Eve. You'll certainly get the warm fuzzies you want for Christmas--which are also good any time of the year. :)
About the author:
Liz Czukas is a freelance writer who lives outside Milwaukee, Wisconsin. Ask Again Later is her first novel. She collects college degrees she doesn't use, types too loud, and always has a song stuck in her head. In high school, Liz did go to two proms, but not at the same time.