The wonderful
Charlene from Bookish Whimsy
has tagged me to do something that's been making the rounds on Facebook: talk about ten books that have stayed with me. Clearly no one I know in real life is especially bookish, because I've only seen it once or twice around--though I wanted to do it. This is obviously going to be the place to talk about this, though, since y'all appreciate books! :) Anyways, without further ado...
The instructions:
List 10 books that have stayed with you in some way. Don't think too hard. They don't have to be the "right" books or great books of literature, just ones that affected you in some way.
A lot of these are likely to be familiar to anyone who has read my blog for a while, because clearly I talk on a loop. :)
1. Ella Enchanted by Gail Carson Levine
I don't even know how old I was the first time I read this book. All I know is that I've read this one more than any other book EVER, over and over and over again. I don't even completely know why I love it so much. Maybe it's the humor. Maybe it's the message. Maybe it's the wonderful characters. Maybe it's just everything! This is certainly the book that started my love of fairy tale retellings, and I haven't read many others that could even come close.
2. Never Let Me Go by Kazuo Ishiguro
I first became interested in this one because of the movie, actually, but I read it first and ended up adoring the book while only liking the movie. There's something about this book that just entranced me. I couldn't quite tell what was going on at the beginning, but the slow unraveling of just who these kids you're following are and what the plan for them is is absolutely riveting. (Of course, it could have been spoiled ahead of time, which stinks.) It's bittersweet, hopeful, and dark.
3. The Hero and the Crown by Robin McKinley
Perhaps my first foray into real fantasy? It was certainly the first that really affected me. I can't remember a time before reading this one that I was so absorbed into the world that I couldn't pull myself out. It also left me desperately wanting to live a life like the heroine, one filled with magic and adventure.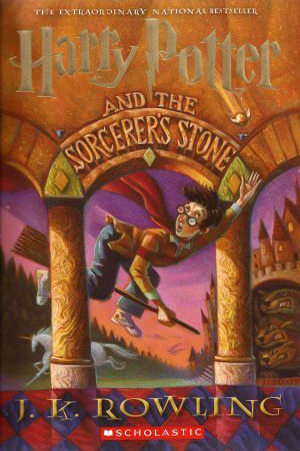 4. The Harry Potter series by J.K. Rowling
I really can't imagine anyone who reads and who is close to my age NOT listing Harry Potter. It's one of those series that has so permeated this generation, which is in itself fascinating. It's a series that let us all believe in magic, that good would always win over evil, and that family doesn't always have to be blood (among tons of other things). Even now I read things about these books and just marvel at the creativity and planning J.K. Rowling took in these books. There will never not be a good time to watch a Harry Potter movie or give your favorite book a reread.
5. The House of the Scorpion by Nancy Farmer
I've read this book once. (I've meant to reread for ages, but alas.) But, my reading experience with this one has stuck with me over at least ten years. I absolutely devoured this, turning page after page, and was absolutely stuck in the world. A dystopian before the word came into use, my love of this book showed just how much I'd love dystopian when it became a trend and was everywhere. Why hasn't this one become a movie? I'd be there in a heartbeat!
6. Atonement by Ian McEwan
I only read this one this spring, but it's totally going to count. Sometimes you just know the books that affect you, and this is absolutely one. When I read this earlier this year, I had kind of lost my zest for books that weren't young adult. In reading Ian McEwan's nuanced writing and complex yet beautiful story, I was reminded of what the right book can do for a reader. This was the book I needed at the time, and it made all the difference.
7. Lola and the Boy Next Door by Stephanie Perkins
This feels kind of like an oddball on my list, but hear me out! Before reading Lola, I didn't think contemporary was a genre I could love. At times I'd found books that I liked, but it was Lola that made me see I could love a contemporary novel. I opened myself up to more (not to mention Anna and Isla, of course!) and have found so many books that I would have written off had I not opened my horizons. Thank you Stephanie Perkins!
8. The Merchant of Venice by William Shakespeare
A play, I know, but I read it before I ever saw it performed (though, this is fantastic in performance). Sometimes I sit and marvel at Shakespeare as well (especially as I read more and more of his plays). He does so much in this play, but in the forefront is how he makes an utterly deplorable character sympathetic with just one speech. That's it! How many people can do that? H even goes back to being awful after, but the lingering effects of what he says stay through the rest of the play.
9. Jane Eyre by Charlotte Bro

nt
ë
One of the first books that made me realize just how much I could love classics. Like any dutiful high school student who liked to read, I didn't mind reading the classics we were assigned. But it was reading Jane Eyre on my own that made me see that I could desperately love a book that had been published hundreds of years ago as a book that had been published relatively recently. I'd read more modern classics and loved some, but nothing like Jane. I mean, no book I read that year count even come close.
10. Into the Wild by Jon Krakauer
Again, I read this because of the movie. I wanted to see the movie, but in looking online at Chris McCandless' story I decided to read the book first. Best decision ever. Chris' story felt so real to me, and his journey was one that inspired me at the time. I was a senior in high school and struggling with the idea of leaving behind everyone I knew to go to a school by myself. I knew I needed to make myself branch out, to be somewhere different, but I'm a homebody to my core, so moving far away was a hard decision. I ended up going to college alone but not too far away, one state away. It was a perfect mix of heading out on my own but also staying close. No, it wasn't huge, but it felt like it to me--and Alabama was perfect for me. I loved every minute there. It was this book that made me feel comfortable with my decision, knowing I would meet so many new people who would change my life. It's certainly a less drastic story than Chris' own, but it made a huge difference to me.
So that's it! Because I wanted to be tagged and wasn't on Facebook, I'm going to tag anyone who wants to participate! All the tags! :) Thank you so much to Charlene for tagging me! This was actually way harder to put together than I thought it would be, but I love talking about why I love books (obviously).