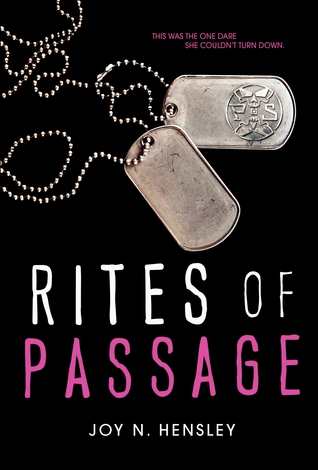 Release date:
September 9, 2014
Author info:
Website
|
Twitter
Publisher:
HarperTeen
Pages:
416
Format:
Egalley
Source:
Publisher provided for review through Edelweiss
Buy the book:
Barnes & Noble
|
Amazon
|
The Book Depository
Sam McKenna's never turned down a dare. And she's not going to start with the last one her brother gave her before he died.

So Sam joins the first-ever class of girls at the prestigious Denmark Military Academy. She's expecting push-ups and long runs, rope climbing and mud-crawling. As a military brat, she can handle an obstacle course just as well as the boys. She's even expecting the hostility she gets from some of the cadets who don't think girls belong there. What she's not expecting is her fiery attraction to her drill sergeant. But dating is strictly forbidden and Sam won't risk her future, or the dare, on something so petty...no matter how much she wants him.

As Sam struggles to prove herself, she discovers that some of the boys don't just want her gone—they will stop at nothing to drive her out. When their petty threats turn to brutal hazing, bleeding into every corner of her life, she realizes they are not acting alone. A decades-old secret society is alive and active… and determined to force her out.
At any cost.

Now time's running short. Sam must decide who she can trust...and choosing the wrong person could have deadly consequences.
I readily admit I picked up
Rites of Passage
because I started to see raving, five-star reviews coming in from friends. I'd kind of looked it over because I am always trying to get fewer egalleys (though I rarely succeed) and tell myself often only to get books I'm dying in anticipation for, but I'm easily persuaded. That persuasion, however, was very right, and I'm very glad I changed my mind. What I had expected to be a light kind of contemporary read dove very deep and hit its points hard.
Sam is, first and foremost, so strong and determined. Sure, she's taking a dare from her brother to enter into DMS and much of her original will to stay comes from that need to honor his memory, but Sam quickly realizes what she's up against, that if she fails to ride through the situation, there will be no other girls following in her footsteps, or any that attempt it will be met with the same adversity she has faced. Someone has to be first, and Sam knows it can be her. At the same time, she hates how her decisions affect those around her. She is very aware that what she does can hurt others and feels bad about it, but she's wonderful in that she continues to fight. She accepts that her friends are willing to put themselves on the line for her and what she's fighting for. The friendships--the family, really--she forges are strong.
I did feel at times that the scenes of Sam going through different types of training, most with instances of bullying from the cadre, got a little repetitive in the middle. I couldn't differentiate between them now, only give a general sense of how I felt while reading. I did think, however, the barrage of insults hurled at Sam through those scenes was very effective. I found myself getting upset and having a hard time continuing to read, thinking about how anyone could endure what she goes through.
The romance is very appealing, giving those of us who love romance a bit of a treat in some really swoony moments, but also never taking the focus off of what Sam is doing. Drill is a great guy, and I loved him and Sam together, but selfishly I wish certain moments between them hadn't been glossed over, like when they discuss their families, because I was never given a chance to get to know him better. I knew I liked him based solely on his actions, but I only wanted a bit more history to give him a bit more flesh.
Rites of Passage
is probably not the book you think it is. I can't help but think of the Disney Channel Original Movie
Cadet Kelly
when I read the synopsis, but we couldn't be farther from that. Sam deals with discrimination and brutality in her quest that begins as a journey to make her family proud and ends as a mission to open up a place for girls in the school, to not let those who seek to bring her down win. It's hard to read at times, but a great read nonetheless.
About the author:
Joy N. Hensley is a former middle school teacher. She used to spend her twenty-minute lunch breaks hosting author Skype chats for her students. Once upon a time she went to a military school on a dare. She lives in Virginia with her husband and two children, finding as many ways as she can to never do another push-up again.