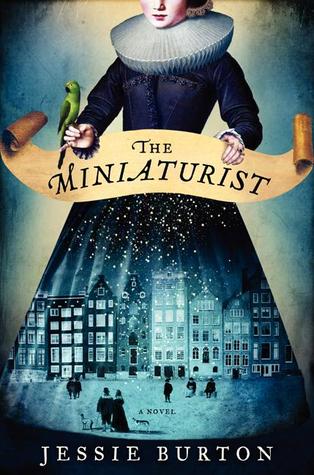 Release date:
August 26, 2014
Author info:
Website
|
Twitter
Publisher:
Ecco
Pages:
416
Format:
Hardcover
Source:
Publisher provided for review
Buy the book:
Barnes & Noble
|
Amazon
|
The Book Depository
"There is nothing hidden that will not be revealed…"

On a brisk autumn day in 1686, eighteen-year-old Nella Oortman arrives in Amsterdam to begin a new life as the wife of illustrious merchant trader Johannes Brandt. But her new home, while splendorous, is not welcoming. Johannes is kind yet distant, always locked in his study or at his warehouse office-leaving Nella alone with his sister, the sharp-tongued and forbidding Marin.

But Nella's world changes when Johannes presents her with an extraordinary wedding gift: a cabinet-sized replica of their home. To furnish her gift, Nella engages the services of a miniaturist-an elusive and enigmatic artist whose tiny creations mirror their real-life counterparts in eerie and unexpected ways . . .

Johannes' gift helps Nella to pierce the closed world of the Brandt household. But as she uncovers its unusual secrets, she begins to understand-and fear-the escalating dangers that await them all. In this repressively pious society where gold is worshipped second only to God, to be different is a threat to the moral fabric of society, and not even a man as rich as Johannes is safe. Only one person seems to see the fate that awaits them. Is the miniaturist the key to their salvation . . . or the architect of their destruction?

Enchanting, beautiful, and exquisitely suspenseful, The Miniaturist is a magnificent story of love and obsession, betrayal and retribution, appearance and truth.
I completed
The Miniaturist
with wildly varying thoughts. The idea behind the story and the world of Amsterdam in the 1600s were marvelous, so I entered the book excited about the prospect of this mysterious miniaturist and was immediately entranced by the world surrounding Nella. There are plenty of twists and surprised, but several of these "surprises" come as no surprise at all while others were completely out of the blue. So, while I found certain aspects to be wholly satisfying, others were left wanting.
The Miniaturist
is a lovely idea and story in many places, yet, somehow, not one that will likely stick with me.
We follow Petronella Brandt, nee Oortman, as she moves into the home of her new husband, Johannes Brandt, who is largely a stranger to her, and as she begins to understand the workings of a prominent family of a large city, coming from a fallen family in the country. From the moment she steps foot into the home, Nella sees there are plenty of goings on she doesn't understand--and may never will. Nella is the perfect narrator for a story such as this one. Both Nella and the reader are wholly unfamiliar with the world she's entering, so we explore together, and her suppositions lead ours, making the surprising revelations all the more surprising. Being eighteen and living a sheltered life, Nella is naive to how her world will change and sometimes her childish reactions are frustrating--but in character. She undergoes a lot of changes throughout the story, and she demonstrates her strength of character--something it doesn't look like she has at the beginning--all through the last chapters, holding a crumbling family together through sheer will and determination. My only qualm with Nella is that her mindset, late in the book, is especially modern and easily come about with, which is hard to believe given the time period and the beliefs of the people at the time. Yes, there will always be exceptions, but Nella is eighteen years old and from a sheltered, poor family of good name in the country--not exactly somewhere that breeds modern thinking.
The Miniaturist
promises surprises, and it gives them. I was constantly reforming what I thought based on new information Nella uncovers, and just about everything I thought was wrong. Even so, what should have been the largest (maybe second largest, I don't know) secret to be revealed was easily guessed, at least by me. I had supposed it at least two hundred pages before, so this final act reveal lost much of its potency. A shame, but also not something every reader will guess. Heck, others might guess the most shocking secret of all, but I didn't see it coming whatsoever. However, there are also lots of big questions left unanswered, which is disappointing. Biggest of all, the treatment of the miniaturist is just surprising--and not in a good way. What is such a draw and mystery for the whole book becomes rather mundane and even unappealing.
Needless to say, I'm rather split when it comes to this one. There are some very beautiful passages and ideas put forward, and Amsterdam at this time period is perfectly suited to the story, providing a hint of danger but also a touch of character from the city itself. Nella does go on a great journey, from a wide-eyed teenager with grand ideas about her future to a strong-willed woman who makes tough decisions over the course of just a few months, and she is able to demonstrate how a woman can rise to face her circumstances--something others find they cannot do in the novel. I only wish I could have felt more engaged, more affixed to the characters' fate. I was shocked at moments, but never on the verge of tears, never fully compelled by their stories, even as they dipped into tragedy.
About the author:
Jessie Burton studied at Oxford University and the Central School of Speech and Drama, where she appeared in productions of The House of Bernarda Alba, Othello, Play and Macbeth. In April 2013 her first novel, The Miniaturist, was sold at an 11-publisher auction at the London Book Fair, and went on to sell in 29 other countries around the world. It was published by Picador in the UK and Holland in July 2014, and the USA in August 2014, with other translations to follow. Radio 4 commissioned it as their Book at Bedtime in July 2014. She is currently writing her second novel.