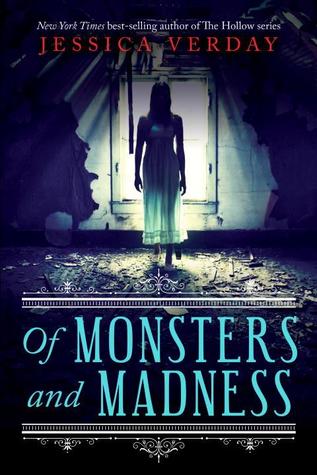 Title:
Of Monsters and Madness
Author:
Jessica Verday
Release date:
September 9, 2014
A romantic, historical retelling of classic Gothic horror featuring Edgar Allan Poe and his character Annabel Lee, from a New York Times best-selling author.

Summoned to her father's home in 1820's Philadelphia, a girl finds herself in the midst of a rash of gruesome murders in which he might be implicated. She is torn romantically between her father's assistants-one kind and proper, one mysterious and brooding-who share a dark secret and may have more to do with the violent events than they're letting on.






My teaser, from 30% in the egalley:
"Of course, Grandpere." He bids me goodnight and returns to his study. I take several steps up the stairs, then stop as I think about his words. I should go apologize to him. Clearly, I should not have been wandering on my own.

But when I turn around, Grandpere is standing outside the study doors with his back to me. He glances over at the door that leads to the dining room. Then nods to the shadow that I thought I had only imagined.
Happy release day to
Of Monsters and Madness
! Edgar Allan Poe is one of my favorite authors, so I DIE for retellings of his stuff. I hope this is awesome!
I'll be visiting around and visiting back, so leave me links to your teasers! :) Happy Tuesday!