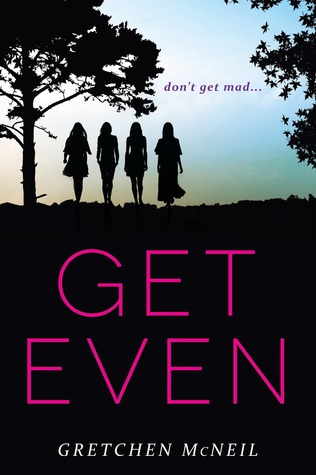 Title:
Get Even
Author:
Gretchen McNeil
Release date:
September 16, 2014
The Breakfast Club meets Pretty Little Liars in Gretchen McNeil's witty and suspenseful novel about four disparate girls who join forces to take revenge on high school bullies and create dangerous enemies for themselves in the process.

Bree, Olivia, Kitty, and Margot have nothing in common—at least that's what they'd like the students and administrators of their elite private school to think. The girls have different goals, different friends, and different lives, but they share one very big secret: They're all members of Don't Get Mad, a secret society that anonymously takes revenge on the school's bullies, mean girls, and tyrannical teachers.

When their latest target ends up dead with a blood-soaked "DGM" card in his hands, the girls realize that they're not as anonymous as they thought—and that someone now wants revenge on them. Soon the clues are piling up, the police are closing in . . . and everyone has something to lose.


My teaser, from 22% in the egalley:
Kitty's cell phone buzzed. She waited for a stoplight, then checked her incoming text. "Margot says that Bree successfully downloaded his hard drive and deleted the video," she said. "I'd say, phase one accomplished."

Olivia sighed as Kitty rolled up in front of her apartment building, visibly relieved that her role was over. "I'll see you at school tomorrow?"

"Absolutely," Kitty nodded. "Don't get mad."

Olivia smiled. "Get even."
Happy release day to
Get Even
! I still have yet to read one of Gretchen McNeil's books, but I am quite determined I'll be reading this one. I hear such good things about her! :)
I'll be visiting around and visiting back, so leave me links to your teasers! :) Happy Tuesday!