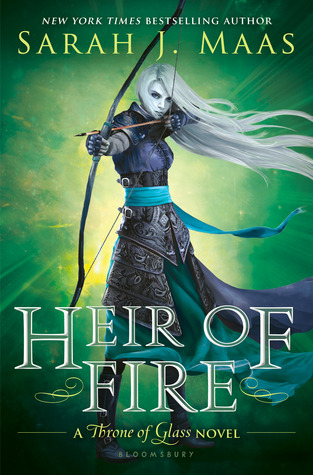 Release date:
September 2, 2014
Author info:
Website
|
Twitter
|
Facebook
Publisher:
Bloomsbury USA Children's
Pages:
565
Format:
Egalley
Source:
Publisher provided through Netgalley
Buy the book:
Barnes & Noble
|
Amazon
|
The Book Depository
Lost and broken, Celaena Sardothien's only thought is to avenge the savage death of her dearest friend: as the King of Adarlan's Assassin, she is bound to serve this tyrant, but he will pay for what he did. Any hope Celaena has of destroying the king lies in answers to be found in Wendlyn. Sacrificing his future, Chaol, the Captain of the King's Guard, has sent Celaena there to protect her, but her darkest demons lay in that same place. If she can overcome them, she will be Adarlan's biggest threat – and his own toughest enemy.

While Celaena learns of her true destiny, and the eyes of Erilea are on Wendlyn, a brutal and beastly force is preparing to take to the skies. Will Celaena find the strength not only to win her own battles, but to fight a war that could pit her loyalties to her own people against those she has grown to love?
Heir of Fire
is one of those books that I sit down to write a review and ask myself, "Why do I even try?" There is not going to be an eloquent way for me to talk about it, and I'm certainly never going to be able to say everything I have to say. I'll try to say something worthwhile, but just know I loved this book.
This is the kind of series that has us expecting action, hand-to-hand combat, and blood, but
Heir of Fire
is kind of slow in that respect. It's never boring or a slow read, but there's just so much more development going on for Celaena mentally than there is physically, and we hear a lot about people getting ready for this big clash that you can just feel is coming. All of the powers are preparing, and the big fight is likely a while off, but you see the strings being pulled in tighter, the whispers coming up. There's simply not a lot of the standard definition of action in
Heir of Fire
until the end--but you never miss it.
Celaena is broken. Really, truly broken. She may be able to go through the motions of what she's been sent to Wendlyn to do, but that's all she's doing. And when Rowan shows up and is assigned to prepare her in order to speak to Maeve, Celaena wants very little to do with. She's driven on only by the promise she gave Nehemia, even if she's still recovering from her friend's death. It's this mix of Celaena's brokenness, mindless drive to honor her promise, and Rowan's never-ending prodding turning into a deep friendship that form Celaena's progress through the book, and while it's heartbreaking at times, it's so empowering and downright wonderful to read about. She has to accept her past mistakes and regrets in order to become the woman she was born to be and save the people she loves, and this is when she does it, emerging as a queen.
Her friendship with Rowan is just fantastic. I had heard a lot about him in reviews before I started reading, and wasn't altogether impressed for a while, but he grew on me quickly. The power that this friendship has for Celaena (both of them, really) is really lovely, showing her she can't live alone, attempting to take on the world by herself. A lot of books try to show just how powerful friendship can be, but
Heir of Fire
probably does it better than any other book I've read.
I really thought I'd miss the romance, but
Heir of Fire
is wholly riveting without it. There's so much going on, but each moment and storyline is so well developed and the machinations going on are so intertwined that you simply can't put the book down. It feels shorter than its over 600 pages, and I felt real regret when I turned the final page, knowing it'll be a year till I can read more about the characters I've come to love.
About the author:
Sarah J. Maas is the New York Times and USA Today bestselling author of the Throne of Glass series (Heir of Fire, Book 3, will be out in September 2014). Starting in Spring 2015, her New Adult Fantasy series, A Court of Thorns and Roses, will be published by Bloomsbury as well.

Sarah lives in Southern California, and over the years, she has developed an unhealthy appreciation for Disney movies and bad pop music. She adores fairy tales and ballet, drinks too much coffee, and watches absolutely rubbish TV shows. When she's not busy writing, she can be found exploring the California coastline with her husband.