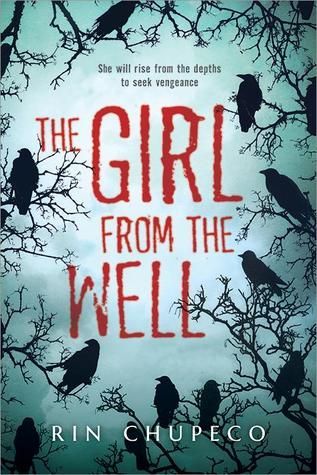 Release date:
August 5, 2014
Author info:
Website
|
Twitter
Publisher:
Sourcebooks Fire
Pages:
267
Format:
Egalley
Source:
Publisher provided through Netgalley
Buy the book:
Barnes & Noble
|
Amazon
|
The Book Depository
The Ring meets The Exorcist in this haunting and lyrical reimagining of the Japanese fable.

Okiku has wandered the world for hundreds of years, setting free the spirits of murdered children. Wherever there's a monster hurting a child, her spirit is there to deliver punishment. Such is her existence, until the day she discovers a troubled American teenager named Tark and the dangerous demon that writhes beneath his skin, trapped by a series of intricate tattoos. Tark needs to be freed, but there is one problem—if the demon dies, so does its host.

With the vigilante spirit Okiku as his guide, Tark is drawn deep into a dark world of sinister doll rituals and Shinto exorcisms that will take him far from American suburbia to the remote valleys and shrines of Japan. Can Okiku protect him from the demon within or will her presence bring more harm? The answer lies in the depths of a long-forgotten well.
The first synopsis I read for
The Girl from the Well
quoted my favorite poem, promised a high creep factor, and was accompanied by that awesome cover. How could I not be eager to read it? I'm admittedly a horror wimp when it comes to movies, but I have a lot more bravery when it comes to books; in fact, I count horror as one of my favorite subgenres in YA. Sure,
The Ring
scared the crap out of me, but a book based on the same story promised a great read. While
The Girl from the Well
features a writing style that's going to off-putting to a lot of people and requires a bit of acclimation, I found the story compulsively readable and fascinating.
As mentioned, the writing is interesting and full of quirks. Okiku is obsessed with counting, so often she'll describe scenes with quantities in parentheses. It's a rather jarring effect, but I thought it was also reminiscent of her thought processes--someone who compulsively counts isn't likely to have a smooth thought process, because she can't really concentrate on what's going on until she knows how many of things are in a room. There are also often points where the lines break up, again forming rather jarring stops and starts, and where the point of view seems to shift from first person to third person without warning. None of this caused me any problems once I got acclimated, but other readers aren't necessarily going to like it.
While I had some vague idea of her story, going into detail about Okiku's fate was heartbreaking and adds a lot of depth to her character and what she does. The retribution she enacts is dark, bloody, and violent (just the way I like it!), but you completely understand why she does it. (I will admit every time I got up from reading to do something I checked to see if Okiku was hanging from my ceiling.) Tark is purely a victim of his birth, a pawn suffering for the decisions of others. At first, he's hard to get a read off of, but he opens up and you see his humor and good nature, even while he's suffering at the hands of a powerful ghost trying to break free. You can't help but admire his bravery and his openness to Okiku.
Though I didn't find myself hiding under my covers at any point,
The Girl from the Well
is full of disturbing images and darkness. Even so, it's a story with an unflinching ray of hope.
About the author:
Despite uncanny resemblances to Japanese revenants, Rin Chupeco has always maintained her sense of humor. Raised in Manila, Philippines, she keeps four pets: a dog, two birds, and a husband. She's been a technical writer and travel blogger, but now makes things up for a living. The Girl from the Well is her debut novel. Connect with Rin at www.rinchupeco.com.
Now, as part of the blog tour, I get to offer up to one lucky reader a copy of
The Girl from the Well
! This giveaway is open to US/CAN entries, and will end 9/25. The prize will be shipped by the publisher. What are you waiting for? You know you want this on your shelf!
a Rafflecopter giveaway