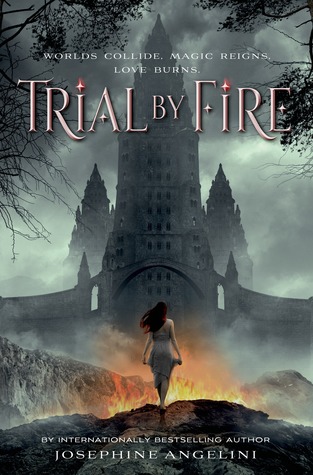 Release date:
September 2, 2014
Author info:
Website
|
Twitter
|
Facebook
Publisher:
Feiwel & Friends
Pages:
384
Format:
ARC
Source:
Publisher provided for review
Buy the book:
Barnes & Noble
|
Amazon
|
The Book Depository
This world is trying to kill Lily Proctor. Her life-threatening allergies keep her from enjoying experiences that others in her hometown of Salem take for granted, which is why she is determined to enjoy her first high school party with her best friend and longtime crush, Tristan. But after a humiliating incident in front of half her graduating class, Lily wishes she could just disappear.

Suddenly, Lily is in a different Salem—one overrun with horrifying creatures and ruled by powerful women called Crucibles. Strongest and cruelest of them all is Lillian . . . Lily's other self in this alternate universe.

What makes Lily weak at home is what makes her extraordinary in New Salem. In this confusing world, Lily is torn between responsibilities she can't hope to shoulder alone and a love she never expected.
I'm wary of books about witches, because I think they can often come across as rather cheesy, so I'm selective of what I pick up when the W word is tossed around.
Trial By Fire
was intriguing because it not only promised witchcraft but also alternate universes and a bit of history thrown into the pile as well. While I had a rather tough start to
Trial By Fire
, it's an absolutely fascinating read that becomes more and more engrossing as you read.
Trial By Fire
started off rocky for me because I didn't like a single character I met in the first couple of chapters, save Juliet, Lily's sister, who only briefly showed up. Lily was so obviously deluded by the attention Tristan was finally giving her that she'd be willing to take just about anything from him as an excuse, Tristan himself felt kind of skeezy, and even the secondary characters did crappy things. How does a book recover from that? Well,
Trial By Fire
had the perfect solution! Let's switch worlds, where everything is similar but also completely different. It's lucky this switch happened pretty quickly, or I don't know if I could have continued. From the moment Lily is taken into the alternate Salem, I was more interested in the story and characters with each turn of the page, leaving the characters I'd disliked so heartily in the back of my mind.
Quickly, I was overwhelmed by things I loved. The magic in this Salem is just fascinating, very elemental and science-based, which makes it feel very plausible and not magic-like. I loved each and every scene where Lily does magic, because I got a better and better sense of how it worked and was deeply intrigued by the mix of science and old world kinds of practices. Then add the ideas of the shaman and world-walking, the ability to transcend one's body and let your soul venture into other worlds, and there's just so much to take in! This isn't to mention the world's history, which we learn slowly and see how the witches were able to shape the course of history into something that can seem both behind and ahead of our world.
Trial By Fire
is seriously ripe with world-building and crazy interesting ideas.
While I didn't like how Lily was so bowled over by Tristan in her own world, she quickly redeemed herself once she got to the alternate Salem. She's never had many friends, aside from Tristan, so Lily is a little awkward, but she's got very strong convictions, and even her dire circumstances won't sway her from them. Over and over again she doesn't back down from challenging situations, and she feels the injustice of the world she's been taken into, and she wants to do something about it, not shy away because it technically isn't her problem. And the girl's got humor!
I don't often find my heart beating faster in romantic moments when I'm reading, but
Trial By Fire
did it. Rowan is one of those characters I instantly took to. Even though he's terribly mean to Lily at first, you can just tell he's got a strong sense of right and wrong, of what's just. He and Lily have a bumpy road to one another, but it's oh so satisfying.
Trial By Fire
may have rang my witchy bells, leaving me alert for cheesiness, and started off rough, but it swept away any misgivings quickly and decidedly. The beginning to a new trilogy, I cannot wait to see what new heights this series goes to in the course of the next two books. A genre-bending novel with almost too many interesting ideas, great characters, a touch of surprising humor, and a romance that works so well but that doesn't take over, I wholeheartedly enjoyed
Trial By Fire
.
About the author:
JOSEPHINE ANGELINI is a graduate of New York University's Tisch School of the Arts in theater, with a focus on the classics. Originally from Massachusetts, she now lives in Los Angeles with her screenwriter husband and three shelter cats. Her debut series, Starcrossed, Dreamless, and Goddess, (Harper Teen) are all international bestsellers and have garnered the praise of various major publications, including the LA Times, and have twice won the Reader's Choice Awards in Germany. Her next series, Trial by Fire, Book One of the WorldWalker Trilogy (Feiwel and Friends, Macmillan) will be out in the US on September 2nd.